JSU Cheerleaders, Cocky Get Nationals Bid, Win Honors at NCA College Camp
JSU Cheerleaders, Cocky Get Nationals Bid, Win Honors at NCA College Camp
08/14/2014
Congratulations to the Jacksonville State University Cheerleaders and Cocky, who recently received a silver bid to the National Cheerleading Association College nationals in Daytona Beach Florida in April 2015. The bid came while the squad was at the NCA college camp in Myrtle Beach, South Carolina last weekend.
JSU's squad was among more than 30 college cheerleader programs from across the U.S. at the camp. Only 14 of those teams received a bid. JSU also won game day competition in their division.
There were also more than 20 mascots at the camp. Three awards were given and one of those went to Cocky, who received "Most Improved."
This year's squad consists of:
Dylan Burns, Josh Gaskins, Cameron Glass, Jay Harris, Sam Harris, Exavyer Jackson, Karl Kiesler, Brett Langston, Jamon Phillips, John Tanner Williams, Jeremy Wynn, Lauren Ashmore, Brooklyn Bean, Alexis Byers, Brittany Cates, Hannah Cronan, Tori Frederick, Justic Gray, Kaiyla Isbell, Morgan Johns, Alicia Kittles, Leslie Puckett, Tarah Sears, Mackenzie Tallent, Amaya Thomas, Breana Whitten, Kelsey Wilson, Amberly Wisner, and Cocky!!!!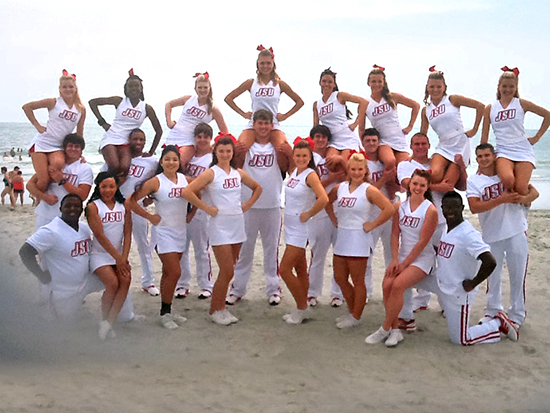 Photo- The Jacksonville State University 2014-2015 cheerleader squad at Myrtle Beach, SC. (courtesy)