Dr. Larry Beard Receives Prestigious Award from the Alabama Council for Exceptional Children
Dr. Larry Beard Receives Prestigious Award from the Alabama Council for Exceptional Children
07/30/2014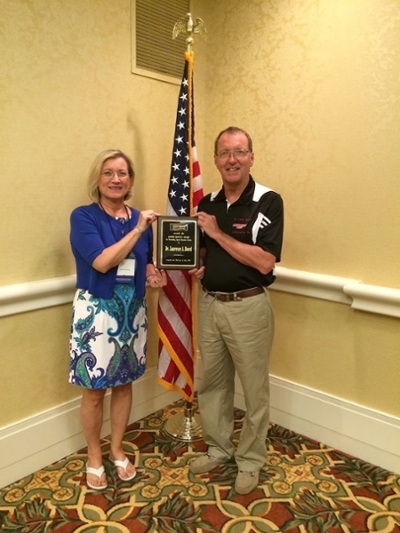 In a recent ceremony held in Mobile, AL., the Alabama Council for Exceptional Children awarded their prestigious Jasper Harvey Award for Outstanding Special Education Teacher Educator of the Year to Dr. Larry Beard from the Jacksonville State University Department of Curriculum and Instruction.
According to their website, the Council for Exceptional Children (CEC) is the largest international professional organization dedicated to improving the educational success of individuals with disabilities and/or gifts and talents.
CEC advocates for appropriate governmental policies, sets professional standards, provides professional development, advocates for individuals with exceptionalities, and helps professionals obtain conditions and resources necessary for effective professional practice.
Dr. Beard has over 30 years service in the field of collaborative/special education. He earned a B.A. in psychology, a B.S. in special education with an emphasis in severe disabilities, an M.A. with an emphasis in multi-disabilities, an Ed.S. in Mental Retardation and an Ed.D, all from the University of Alabama.
During his tenure at JSU, Dr. Beard has co-published Assistive Technology: Access for All Students, which is currently in its third edition. According to the bookseller at Pearson Publications, this was the best selling assisted technology textbook in 2011.
Dr. Beard has published numerous articles in juried journals and has made numerous presentations at the national and international levels.
Jacksonville State University would like to congratulate Dr. Beard on this prestigious award.
Photo: Dr. Beard receiving his award from the Alabama Council for Exceptional Children.