A Cappella Choir Members to Perform at Carnegie Hall, NYC
A Cappella Choir Members to Perform at Carnegie Hall, NYC
07/23/2014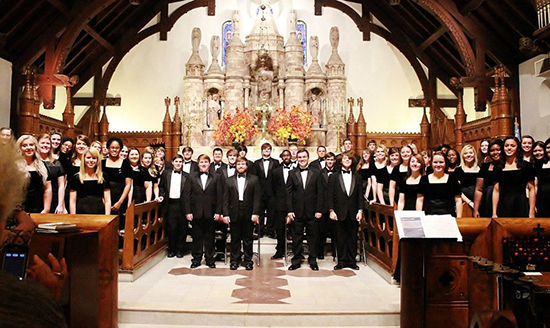 Members of the Jacksonville State University's A Cappella Choir will be performing at Carnegie Hall in New York City on March 22, 2015.
The JSU students will perform with singers from all over the world, accompanied by the resident orchestra, to perform Maurice Duruflé's "Requiem" under the direction of Doug Mears, Artistic Director of the Fairfax Choral Society in Washington, D.C.
The concert will be the culmination of a five-day residency in New York City for the singers organized by Mid America Productions.
A Cappella Choir will be having many fundraising events throughout the upcoming year to help singers pay for this trip.
The first and biggest event will be a "Choir Yard Sale" held on Saturday, August 23, 2014 in the parking lot of the Priceless IGA Supermarket in Jacksonville, with a rain date of, Saturday, September 13.
Donations of furniture and other household items for this sale will be greatly appreciated. 
In addition to attending rehearsals, the JSU singers will be staying in midtown Manhattan and will have the opportunity to take advantage of all that the city has to offer.
"This is a fantastic opportunity for our students to have a life changing experience in a great city," says Dr. Patricia Corbin, JSU Director of Choral Activities.
"Many of the choir members have never been out of Alabama or the Southeast, and performing this wonderful work in this famous venue will broaden their horizons culturally as well as musically."
Before the student performers head off to Carnegie Hall, A Cappella Choir will be performing the Durfulé "Requiem" on March 15, 2015. This will be under the direction of Dr. Corbin at First United Methodist Church in Anniston, accompanied by organist, Joshua Bullock.
Mr. Bullock is a former JSU A Cappella Choir member who recently finished the Master of Music degree in Organ Performance at Indiana University and will be beginning doctoral studies in organ performance at the University of Alabama this fall
For more information about JSU Choral Activities and this trip, please contact Dr. Corbin, (256) 782-5544, pcorbin@jsu.edu. 
If you wish to make a monetary donation to benefit all students going on this trip, you may make it online through the JSU Foundation at this link (Please designate or make checks payable to: FOM/Choirs)
https://web4095.campusnet.net/OnlineGiving_421/site/donate.aspx?siteid=bc59ff49-4aa3-4c39-b583-6c549182dd40&fgid=1500.