April 16 Holds the Fifth Annual One Day Without Shoes at JSU Hosted by Freshman Forum
April 16 Holds the Fifth Annual One Day Without Shoes at JSU Hosted by Freshman Forum
04/14/2014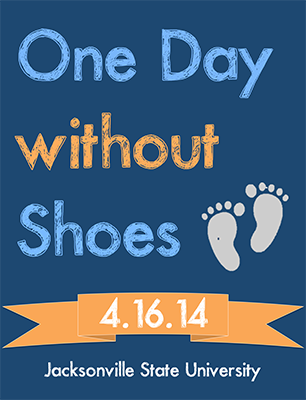 Freshman Forum is excited to announce that the fifth-annual One Day without Shoes at JSU will be held Wednesday, April 16 from 10 a.m. to 4 p.m. on the TMB Lawn. This day reminds us that there are numerous children and young adults suffering from the consequences of not having suitable footwear. Not only are there diseases linked to having improper footwear, but many village schools require children to wear shoes in order to attend--an issue many of our students can't imagine.

This day of awareness will be filled with activities on the lawn including barefoot relays, one-for-one crafts, inflatables, and more! The day will culminate with our "barefoot parade" around Trustee Circle at 3 p.m., where students, staff, and faculty can join and get a first-hand experience of what going barefoot daily would feel like.

In the weeks prior to this day, Freshman Forum students will be in the TMB auditorium taking "barefoot pledges" from students pledging to participate in this day and join the barefoot parade. 
For more information, please contact Noelle Millirons in Student Life at ext. 5493.