Town and Gown - JSU Gamecock Battalion Returns From Regional Challenge With "Spirit"
Town and Gown - JSU Gamecock Battalion Returns From Regional Challenge With "Spirit"
02/17/2014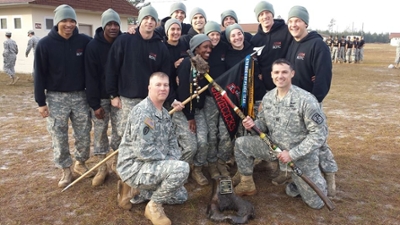 By Heather Greene
Faring impressively well, the Jacksonville State University ROTC Gamecock Battalion recently returned from their annual Ranger Challenge, where they competed against forty-eight teams from the thirty-nine universities that collectively constitute the Seminole Brigade.
This two-day event, held at Camp Blanding, Florida, tests battalions through both physical and critical-thinking competitions. Beginning their days at 6:30 a.m., the battalions traveled a total of 20.5 miles and navigated various obstacles along their route, a few of which were a hand grenade assault course, a timed four-mile foot march carrying 25 or more extra pounds of weight, a Zodiac (tactical boat) challenge, and a demonstration of combat first-aid.
"We did really well," says Maj. Paul Thiessen, department head for the JSU ROTC program. "Although we didn't place first in any of the competitions, we did place in the higher echelon in each of those events."
Although the team did not walk away with any first-place streamers to add to their banner, they succeeded in winning the award that Major Thiessen considers to be perhaps the greatest prize – the spirit stick, which serves as a reminder of the exemplary group spirit that the battalion displayed during the Challenge.
This prestigious award is passed from battalion to battalion each year and goes to the team that overcomes adversity and displays the most group spirit during the competition. Each winner of the stick is allowed to place their own distinct university coin in the base of the award, leaving their mark for future cadets.
Major Thiessen explains that the battalion cadets are all volunteers and do not gain any extra credit or monetary compensation for their time in the battalion. However, he describes this annual event as a "gut check" for cadets, which allows the team to build camaraderie and, in the case of this year's award, notoriety.
Of the 105 cadets in the JSU ROTC program, 12 are chosen to be members of the Ranger Challenge company. Team members are hand-selected by a core of battalion members and the team ranges from freshmen to seniors. Training for this event begins months prior, as the team members practice every weekend leading up to the event on their own time.
The JSU cadets who participated in the 2014 Ranger Challenge are: Evan Prince, Emerald Padgett, Chelsea Jones, Wesley Carter, Christopher Hobbs, Eric McIntyre, Dominique Stewart, Amanda Wells, Avery Smith, Chad Selman, Nicholas Orvino and Austin Lee. The ROTC faculty members who accompanied the team to the Challenge are Maj. Paul Thiessen, Capt. Matthew 'Matt' Sawdy, Master Sgt. Lonnie Corley and Sgt. First Class James G. Clanton.
"One of the biggest things we do here is teach and encourage team building," explains Major Thiessen. "It is the core of military operations – commitment to the operation and team building. If you can master that as a leader, it's difficult, but if you can, then you are going to go far."
For Major Thiessen, serving as the JSU ROTC program director and taking the team to the Ranger Challenge has a special significance, as he is a JSU alum and led his own team as a cadet in the battalion.
"Being back here is a huge honor," states Major Thiessen. "I pinch myself every day. To be back here, in charge of the program, and giving back to the program what they gave to me…is a blessing."
Cadet Sergeant Major of the JSU ROTC program, Chelsea Jones, a senior business major who, in addition to graduating, will be going active this summer, says, "You definitely gain a lot of critical thinking skills just because every year, they [Ranger Challenge] change the event and they don't really tell you the changes. It teaches you to think on your feet."
Thanks to fundraisers by the team and donations by local sponsors Fort McClellan Credit Union and the Captain Kyle Comfort Foundation, the JSU ROTC program purchased a $3,500 Zodiac boat that they could use for practice prior to the competition. As a result, they performed exceptionally well in the Zodiac boat competition at the Ranger Challenge and finished fourth in the category.
Captain Sawdy, who serves as the coach for the Ranger Challenge team, expressed that he and the entire ROTC program were so very thankful to have the opportunity to train with a boat of their own, giving his cadets an edge on their competition and providing them with valuable hands-on experience.
Not only did the team face challenges at Camp Blanding, but they faced a change of leadership, as their platoon leader sustained an injury (unrelated to ROTC training) a week prior to the Ranger Challenge. Nevertheless, the team pulled together, recruited and prepared another team member while Cadet Evan Prince (who had served as platoon leader his junior year) stepped up to do a superb job leading his battalion onward.
 "The Ranger Challenge is the varsity sport of our ROTC department," explains Prince, a senior and four-time Ranger Challenge competitor. "There is just a different standard that the cadets on it are held to. I like it because I can challenge myself within it. I've gotten a lot more PL (platoon leader) time in it and experience in that role than what a normal cadet would get. Because of the standard we are held to by Captain Sawdy and Sergeant Clanton, we are better prepared when we come out of here than we would be normally. As far as the competition, there's not a lot of things like it that are going to tax you physically and mentally two straight days…Every year is different. You never really know what you are walking into. You can train for it as best as you can and to me, that translates to basically everything I'm going to see once I leave here."
Prince stressed that he is immensely proud of his team and their hard work and dedication.
Jacksonville State University would like to commend the Gamecock Battalion for how well they represented the Jacksonville community and congratulate them on their success.
Currently, the Gamecock Battalion is competing on social media with other universities to see who can get the most "likes" on their Facebook page during the month of February. You can help out the JSU ROTC program by "liking" the Battalion's Facebook page at www.facebook.com/gamecock.battalion.3.
For more information about the JSU ROTC program, please visit www.jsu.edu/rotc.
This article originally appeared in the "Town and Gown" of the Jacksonville News
Photo: The Gamecock Battalion at the Ranger Challenge (JSU ROTC Department)