Local Author Beth Duke to Present at Spring Friends of Houston Cole Library Event
Local Author Beth Duke to Present at Spring Friends of Houston Cole Library Event
02/19/2014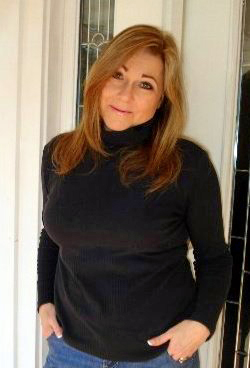 "There are diamonds in the red clay of northeast Alabama. Delaney is one of them." 
So begins the reader's introduction to Delaney Robinson, the two-year-old with a serious attachment to her great-grandmother, who is the subject of Delaney's People, the first of two novels by local author Beth Duke.
Duke will be the featured speaker at Jacksonville State University's Friends of the Houston Cole Library annual spring author event on Thursday, March 6.
In addition to Delaney's People, Duke has written several prize-winning short stories. Her work has been featured in Pearl: A Literary Magazine, Longleaf Style magazine and included in the British anthology The Possibility of Bears.
Don't Shoot Your Mule, the highly anticipated sequel to Delaney's People takes readers on a turbulent, surprise-filled journey from Depression Era rural Alabama through 2011's devastating tornadoes and their impact on Delaney's family and friends. Family ties, love, loss, betrayal and a characteristic dead mule combine in a perfect book for devotees of Southern Literature. The book follows a diverse collection of characters and one group's healing and recovery culminates in Bama Rising, the benefit concert by Alabama, at Birmingham's BJCC. Alabama Grammy-winning songwriter, lead singer of Alabama (and JSU trustee) Randy Owen has since become a great admirer of Duke's writing, commenting:
"Beth Duke's works are as real as grits and gravy in The South, and her usage of her Southern English has the taste of Mama's biscuits."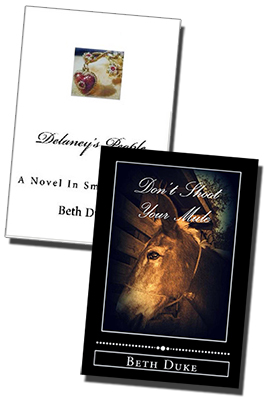 Kimberly Brock, author of The River Witch and 2013 Georgia Author of the Year, has commented about Duke's first book:
"Every scene, every character in this wonderfully colorful depiction of Dixie evokes both the vulnerable and gritty parts of a people and region. Beth Duke's Delaney's People weaves together strands of the past and present as seamless as pearls, treating her readers to a collection chock full of loving detail, big-hearted humor and tender insight."
Sherry Kughn, frequent contributor to The Anniston Star and a columnist for the Jacksonville News, had the occasion to do a feature piece on the Saks family "pet," Radar the Mule, owned by a cousin of the author, which Duke photographed for the book cover of her second book. Author and educator Sherry Kughn also organizes the Calhoun County Writers Group, for which Beth Duke spoke last fall, just after her stunning short story was published in Longleaf Style. The aspiring writers were very engaged by Duke's initiative to self-publish through Amazon's CreateSpace. She gave some practical advice about mastering the mechanics of publishing through the author-controlled service and will include information about these experiences in her presentation at JSU.
An Anniston native, Beth Dial Duke lived on the Gulf Coast of Florida for many years. She now resides in Delta with her family— husband Jay and children Jason and Savannah— and eleven loyal chickens, two lovable dogs and a randomly affectionate cat. She speaks admirably of her grandmother's hardscrabble life as a resident of Mill Village in Jacksonville. Duke's inspiration to turn to writing after a successful career in marketing pays great tribute to the rich heritage of those in earlier generations. Duke's blog, Delta Delta Delta, currently contains information on her two titles plus her impressive photo-shoot of the Parker Memorial Baptist Church, posted last fall after its restoration was completed.
Copies of her books will be available for purchase and signing at the event, which begins at 7 p.m. Admission is free and refreshments will be served following the presentation.
Read Reviews, Purchase Delaney's People on Amazon
Read Reviews, Purchase Don't Shoot Your Mule on Amazon
Learn More About the Friends of the Houston Cole Library   

Photo: Beth Duke (courtesy)