JSU's Renee Morrison Nominated for Roosevelt-Ashe Conservation Award
JSU's Renee Morrison Nominated for Roosevelt-Ashe Conservation Award
02/28/2014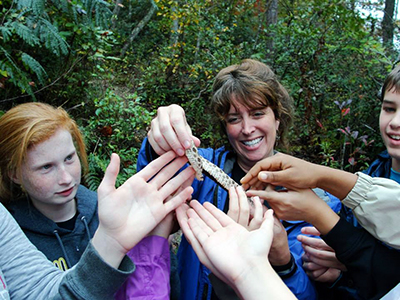 ASHEVILLE, NC – Regional conservation non-profit Wild South announced today the Nominee Finalists for its 6th Annual Roosevelt-Ashe Conservation Awards. The awards will recognize and honor outstanding work in 2013 to protect wild places and wild things in the South. This year's nominees represent five Southern states and exemplify dedication and passion for environmental conservation. The winners will be announced and awards will be presented at Wild South's 6th Annual Green Gala held March 21, 2014 at The Orange Peel in Asheville, NC.

Renee Morrison, Jacksonville State University Field Schools' Assistant Director, is the state of Alabama's representative and one of three national finalists for this award. She was nominated by USDA Forest Service District Ranger, Karen McKenzie, and by The Donoho School teacher, Donna Plunkett, who noted in part that she has an "ability to inspire a deeper look the natural world, and she has extraordinary creativity, and a never-ending delight in sharing her passion for environmental education, annually providing hundreds of educational programs "from the deepest canyon to the highest mountain in Alabama." 

"These nominees are conservation heroes and have unique, amazing stories of passion for a cause, tenacity, and victory. Wild South's Roosevelt-Ashe Conservation Awards always attract inspirational nominees, and this year is no exception" said Dusty Allison, Award Selection Committee member.

Morrison will be attending the Green Gala award ceremony with her teenage son, Jo Morrison, and her parents, J.C. and Betty Simmons.
Photo: JSU Field Schools Assistant Director Renee Morrison, center, introduces young students to reptiles during a JSU Field School program. (courtesy)