Encore! Show Choir Plans April 17 Reunion Concert
Encore! Show Choir Plans April 17 Reunion Concert
02/10/2014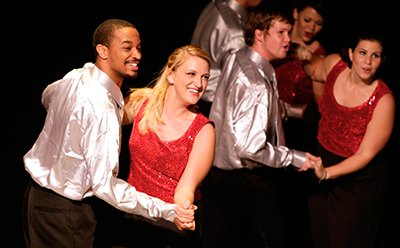 In Fall 1989, JSU introduced a new musical ensemble, a show choir called Encore! Under the direction of Darnelle Scarboro, this ensemble merged singing and dancing to dazzle audiences of all ages. Three other directors, Carrie Culver, Larry Hardin and Jane Rice Holloway, continued the show choir tradition at JSU. Under the current direction of Dr. Renee Baptiste, Encore! continues to attract singers and instrumentalists who come together and perform pop, jazz, Broadway and other contemporary genres. Members continue also to be awarded scholarships based on auditions.
To commemorate 25 years of spirited music performances this spring's concert will serve to reunite as many former members as possible. The concert will be held on April 17, 2014 at 7:30 p.m. in the Performance Center of Mason Hall. All Encore! alumni are invited to join in this celebration.
If you are a former Encore! member, please contact Dr. Baptiste if you'd like to attend the concert. All ideas, suggestions and other input are also welcome at (256) 782-5873 or baptiste@jsu.edu. If you have pictures of your time with the ensemble please share them for our commemorative program.
We look forward to hearing from you soon, alumni!