Wow! It's a Food Truck!
Wow! It's a Food Truck!
01/21/2014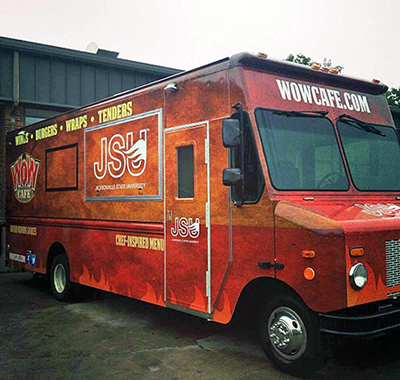 Beginning this week, JSU students on the move gained a new way to get their food to go.
JSU Campus Dining is pleased to announce that the Wow food truck has officially rolled out on campus. 
The truck will be parked by the amphitheater between Merrill Hall and Stone Center weekdays from 8 a.m. - 2 p.m. If the vehicle seems a little familiar, it is because it made occasional appearances as a concessions truck during the 2013 football season at JSU Stadium.
Now that it's rolling across campus regularly, patrons will be able to enjoy breakfast in the morning as well as the full menu they are used to seeing at the Wow Café on the Quad. 
The truck will accept cash, debit, and credit payments, as well as many students' currency of choice-- flex dollars.
Here are some of the items available: