Sochi Olympics marks JSU alumnus' sixth game
Sochi Olympics marks JSU alumnus' sixth game
01/22/2014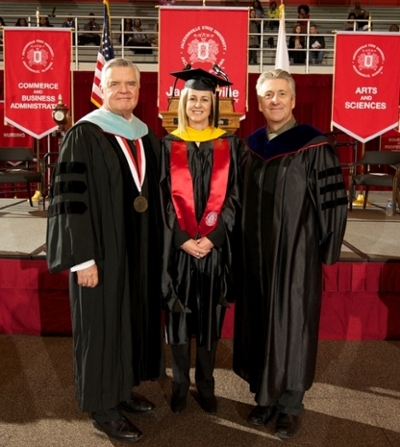 By Ashley Siskey, graduate assistant in JSU's Public Relations Office 
"What do I do with my time now?" remarked Jacqui Edmiston after her 6,130 mile trip from Sochi, Russia, to attend the JSU December 2013 graduation ceremonies, where she received her emergency management master's diploma. 
With a comment like that, one wouldn't realize Jacqui is in the throes of her sixth Olympic games! A native of Sydney, Australia, Jacqui received her bachelor's in sports management from Southern Cross University in 1995 and was hired three years later by the Sydney Organizing Committee to help plan the 2000 games. Sydney then led to Salt Lake, which led to Athens, then to Vancouver and London, and now to Sochi. Jacqui has relocated with each Olympics, and she claims it has been "a great way to see the world!"
Jacqui, along with her business partner and husband, Rod, provide consultant expertise through their business, Jacman, in areas such as crisis and emergency management, risk assessment, operational readiness, ticketing strategy and operations. 
The 2014 Winter Olympics in Sochi will begin in February, followed by the Paralympic Games in March.  For these games, Jacqui provides support to the central command, control and communications team (C3), the operational readiness team, and the event services function of the organizing committee. What does this mean? In broad terms, her support involves preparing detailed plans and strategies for responding to a variety of incidents when it comes to emergency situations. This includes training internal and external partners for the implementation of the plans by conducting exercises that cover both routine and non-routine scenarios. 
During the 2010 Vancouver Winter Olympics, one notable tragedy resulted in the unfortunate death of a luge athlete from the Republic of Georgia during a training accident.  The Crisis Management Plan used in response to this accident was written by Jacqui and supported by a contingency plan for death of a key client, prepared by the risk management team of the organizing committee.
For previous Olympics, Jacqui worked directly for the organizing committee in the host countries, "My first experiences were trial by fire. Being fresh out of college and working on the Olympics, I had to learn as I went along," said Jacqui. Through the years, she gained more experience with incident and crisis management, a growing interest in emergency management and she wanted to combine her professional experience with a degree.
After looking at programs in the UK, Australia, Canada and the U.S., Jacqui selected JSU's emergency management program. The program offered the flexibility she needed while traveling and working in the events arena. 
Dr. Jeff Ryan, emergency management department head, enjoyed following Jacqui in her travels as she participated in the online classes. "It is not unusual for students to attend classes from overseas. Over the years, we have had students represented on all seven continents. Yes – even Antarctica! We had a student take a class while working in an ice research station," said Dr. Ryan. 
"Having an emergency management degree to back up my experience lends more credibility to the services Jacman offers," said Jacqui. Jacman was started in 2012 with her husband, a native of Wilmington, Delaware, whom she married in 2011. The two met while working on the 2010 Vancouver games. Combined, one or both have worked for every Olympics since the 1996 Atlanta games.
While the Olympics and Paralympics are the most recognizable projects on Jacman's company bio, the company has an impressive list of other events. Projects have ranged from the Commonwealth Games in India, Australia and Malaysia; to the Asian Games in Qatar; to the Asia Pacific Economic Cooperation, also previously held in Australia. Jacman is already consulting on projects coming down the pipeline, including the Toronto 2015 Pan Am and Parapan Am Games.
The emergency management master's program took Jacqui two-and-a-half years to complete. Even with her demanding schedule and travels, she was able to maintain a 4.0 GPA in the program. "The faculty were amazing," commented Jacqui. "Not only was the subject matter enjoyable, the teaching team was a huge positive. Each of them is successful in their own right – and, just all-around good people."
While here for graduation, Jacqui was asked if she had ever visited the south before. In line with her adventurous spirit and love for travel, she revealed she had previously visited in 2009 as part of a tornado-chasing trip that covered six states.
"JSU is proud to have a graduate representing the university on the global stage. We wish Jacqui much success and are looking forward to seeing where her work takes her next," commented Dr. Ryan.
Photo: Jacqui Edmiston with Drs. Meehan and Ryan at December graduation (Matt Reynolds/JSU).