Steve May: From Jacksonville to Jack Daniel's
12/03/2013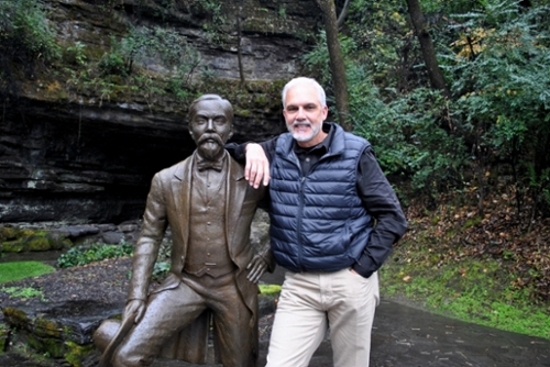 By Ashley Siskey, graduate assistant in JSU's Public Relations Office.
"Always with friends," says Steve May when asked to share his favorite way to enjoy Jack Daniel's. May has been with the Brown-Forman owned brand for over a decade and is the director of marketing operations for the Lynchburg Homeplace at the Tennessee distillery.
May is also a proud 1981 graduate of JSU.
"My experience at JSU has been instrumental in my career successes. The size of JSU exposed me to more opportunities to learn and grow than I would have had at a larger university. JSU helped me become a fearless person due to the breadth of that experience, " said May.
Hailing from the Southside, Ala., area, May was the first to receive a college diploma in his family, graduating with a BS in Production Management and Marketing. Immediately after college he moved to Houston, Tex., where he worked for Cintas as a distribution center manager. Mid-career, May went back to get his masters degree in management and information systems from Florida Tech. Before landing the gig at Jack Daniel's, May worked for Boeing, ADTRAN, and GE in the Decatur and Huntsville areas. He quickly climbed the ranks at each company, even receiving five promotions in his first six years at GE.
May's father was an entrepreneur, teaching May savvy business skills and general survival skills from an early age. May hopes he has passed along "lessons learned" to his son, Josh, a Navy veteran, who resides in Gallatin, Tenn. May also has a stepson, Chris, who resides in Decatur.
An active philanthropist both professionally and personally, May serves on the board of visitors for the JSU College of Commerce and Business Administration (CCBA). In this role, he serves as an advocate for the CCBA within his spheres of influence, collaborates with the CCBA on upcoming initiatives and assists in acquiring resources to help the college reach its goals.
University Development Officer Bill Nash speaks highly of May saying, "Steve really impressed me when he drove down from Lynchburg and gave his entire day to help us with a project in CCBA. He's a friend that will roll up his sleeves and work with you. He's proud of JSU and is always willing to help."
May's coworkers at Jack Daniel's couldn't agree more. Described as down-to-earth, genuine and a person that will 'get into the trenches' to achieve goals, May and his wife of twelve years, Nell, are known in the Lynchburg community for giving back. Many of the events hosted at the distillery are charity-driven, and the Mays are happy to help organizations like the Multiple Sclerosis Society (MS) raise funds at events like the Jack & Back Ride each October. This year's ride raised over $600,000.
"Steve May is a natural leader that instills confidence in his team. He inspires them to grow and to become their best selves professionally and personally," comments Dave Stang, assistant vice president for events sponsorship and Homeplace for Jack Daniel's. Randall Fanning, senior marketing services coordinator, echoes those sentiments saying, "Steve is a good fellow, leader and friend. He is sincere, compassionate, caring and an upstanding person."
These traits make May an excellent ambassador for the university. He visits JSU as often as his schedule permits, usually taking in a few football games and visiting favorite local establishments like Roma's and Brother's. "I want to encourage everyone with ties to JSU to come back and see this beautiful campus. Many things still feel the same, but there are also many improvements to enjoy," said May.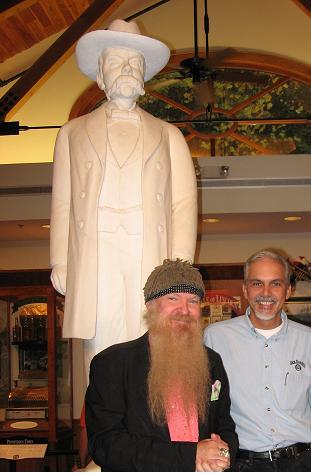 When asked about some of his favorite memories from his college days, May was quick to provide an answer. Several involve events for his fraternity, Kappa Sigma. One of his most memorable was having the Drifters provide the entertainment for a fraternity party. (For those unfamiliar, the Drifters were famous for songs like "Under the Boardwalk" and "Save the Last Dance for Me.") Another memory also involves a Kappa Sigma gathering, this time at a progressive dinner party. At one of the stops, fraternity members were all standing in the living room of a house, chatting and listening to music when the floor joists gave way, sending all of them on a quick two-foot ride to the ground below.
His most memorable academic moment was in Dr. Brown's finance class. When a fellow student was caught cheating on a test, Dr. Brown did not hesitate to escort the student out of Merrill Hall. "I was so scared," said May, "from that moment on, I NEVER even looked up from my paper when taking his tests."
May can be found in Lynchburg at the distillery most of the year. He encourages everyone to come by for a visit. "The perfect day in Lynchburg consists of a tour of the distillery, where you'll learn about the rich history of the place, the brand and the man himself, Jack Daniel; dinner at Miss Mary Bobo's Boarding House (reservations required); and time to take in the town of Lynchburg," suggests May. "And, don't forget the Lynchburg Hardware & General Store on the square where you can shop for anything imaginable with Jack Daniel's on it, including items made with barrel wood."
The distillery is open seven days a week, most of the year. The brand prides itself on everything still being made in the USA, from the spirits to the glass, labels and barrels.
Receiving 250,000 visitors a year and managing over 100 employees at the distillery, May credits JSU with providing him with a foundation for successfully engaging with the public and colleagues, alike.
Recently, May was honored with the 2013 Servant Leadership Award from the Tennessee Association of Community Leadership (TACL). TACL is comprised of five regional leadership programs, and May is over the program for the 13 Middle Tennessee counties.
"It's not just about the degree," summarizes May, "It's also about how hard you work with that degree."
Photo above (courtesy of Steve May): Steve May with the statue of the man that started it all, Jack Daniel. Jack Daniel's is the oldest registered distillery in the U.S.
Photo below (courtesy of Steve May): Billy Gibbons from ZZ Top visits Lynchburg.
This article first appeared in the Town & Gown section of The Jacksonville News.