Keith Shears is 2013 JSU Employee of the Year
Keith Shears is 2013 JSU Employee of the Year
12/16/2013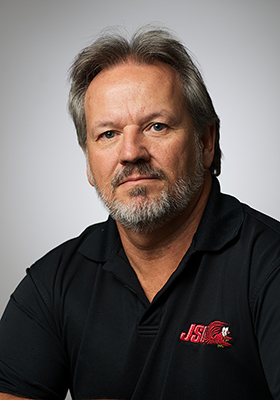 Congratulations to Jacksonville State University's Employee of the Year 2013, Keith Shears!
Shears is a production digital copy binding specialist in the JSU Print Shop. He received the honor at the annual JSU Staff Luncheon on December 16 in Leone Cole Auditorium. To qualify for Employee of the Year, one must first be chosen Employee of the Month. Shears was selected as Employee of the Month in October 2013. He has been a JSU employee since March 1990.
As Employee of the Year, Shears received a $500 check and a plaque.
Also recognized at the luncheon were the other eleven employees who received Employee of the Month honors in 2013. 
Those employees are:
January- Linda Adams
February- Allison McInnis
March- Lori McFall
April- Danny Whaley
May- Allen Bonds
June- Denise DaSilva
July- Calvin Bennett
August- Debbie Buzan
September- Kay Griffin
November- Tiffany Onkst
December- Lisa Pugliese