Strong Partnerships Keep Canyon Half Marathon Running
Strong Partnerships Keep Canyon Half Marathon Running
10/14/2013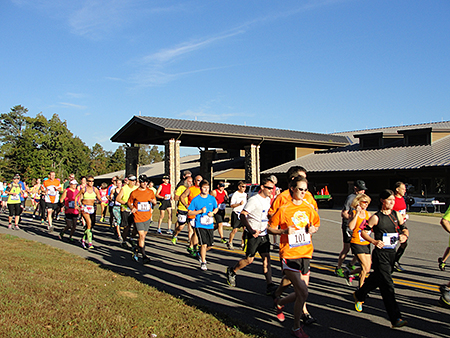 Despite federal government shutdown, Saturday's Canyon Half Marathon in Fort Payne, Alabama attracted nearly 500 people to run and/or enjoy the Jacksonville State University family festival and Canyon Center, which highlight Little River Canyon National Preserve. 

"Strong partnerships can fill some gaps when needed," said Pete Conroy, Director of the JSU Canyon Center and supporter of the National Park Service. 

Selected as an Anniston Runners Club Grand Prix event, the first five miles of the Canyon Half Marathon course follows the precipitous edge of Little River Canyon passing through the Preserve, a unit of National Park Service.  

In absence of the NPS, Conroy and JSU staff successfully coordinated extra assistance from the Dekalb County Sheriff, Adamsburg and Fischer Fire and Rescue squads, the Fort Payne Fire Department, Alabama State Troopers, Department of Transportation and dozens of volunteers. Throughout the shutdown, the JSU Canyon Center has remained open, giving visitors, students, tourists and conference attendees a portion of the experience they would have if the National Park Service was open. 

"With 155 registered runners, support teams and lots of visitors, it was just another a great and safe day at Little River Canyon," Conroy concluded, "We will do it again in 2014 but hopefully with our terrific National Park Service partners."
Photo- Runners pass JSU's Little River Canyon Center during the Canyon Half Marathon on October 12. (Renee Morrison/JSU Field Schools)