JSU Drama Presents "The Curious Savage" October 17-20
JSU Drama Presents "The Curious Savage" October 17-20
10/14/2013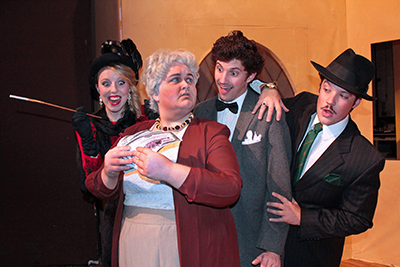 Kindness and affection can be found in the oddest places!
The wealthy widow Ethel Savage wants to make the best use of her money by helping other people to realize their hopes and dreams; her grown-up stepchildren have other plans. They commit Mrs. Savage to The Cloisters, a local sanatorium, hoping to "bring her to her senses." She befriends a group of social misfits who have found peace in the home's safe walls. They help her lead the stepchildren on a merry chase to locate Mrs. Savage's hidden fortune, while revealing to Ethel the true way to a joyous life.
The Jacksonville State University Drama Department is proud to present John Patrick's comedy The Curious Savage, October 17-20 at the Ernest Stone Peforming Arts Center. 
Performances are Thursday - Saturday at  7 p.m. and Sunday at 2 p.m.
Tickets are $10 for adults, $8 for senior citizens and JSU staff, $5 for students, military and children. 
This show is directed by Michael Boynton.
To order tickets, call the Drama Department Box Office, 256-782-5648.
Photo- Performing in The Curious Savage at Stone Center Oct. 17-20 are, from left: Meghan Browning, Audrae Peterson, Aaron Martin and Daniel King. (Randal Blades/JSU Drama)