Jacksonville State University to Sponsor Performance of "Letter From Birmingham Jail" on October 24
Jacksonville State University to Sponsor Performance of "Letter From Birmingham Jail" on October 24
10/14/2013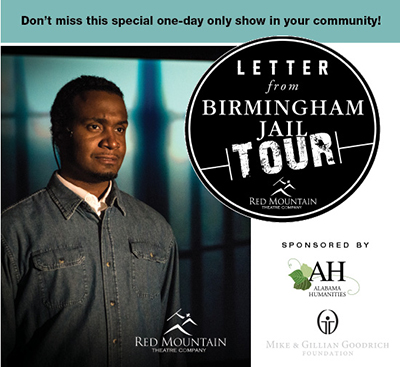 Jacksonville State University has partnered with the award-winning Red Mountain Theatre Company to bring their dramatic interpretation of the Letter From Birmingham Jail to the JSU campus. The performance is unique because of the inclusion of local civic and business leaders who will read portions of the play.
In 1963, eight white clergyman from a variety of Christian denominations in the Birmingham area wrote a letter to Dr. Martin Luther King admonishing him to allow local laws to deliver justice to Blacks suffering a variety of injustices at the time. On April 16, 1963, Dr. King responded to the clergy letter with a powerful, eloquent response which has become required reading in high schools and universities ever since.
The play is scheduled to take place at the Stone Center, R. Carlton Ward Stage on October 24 at 7:30 p.m. and is free to the public on a first-come, first-served seating basis.  The central character in the play, Dr. King, is being portrayed by Red Mountain Theatre Company principal actor, Mr. Cecil Washington.
"I think this performance will be extremely powerful and provide a great opportunity for conversation.  I am very excited that we are able to host this incredible opportunity" said Randal Blades, JSU Drama Department Head.
The local community participants, reading the parts of clergymen include:
Rick Carter, Principal, Jacksonville High School
Joe Delap, Associate Vice President, Academic Affairs, Jacksonville State University
Mark Jones, Jacksonville City Council President
Michael Rich, Rector, St. Luke's Episcopal Church
Steve Whitton, Professor, Jacksonville State University
For more information, call Randy Blades at 256.782.5447 or email rblades@jsu.edu.
About Red Mountain Theatre Company
Founded in 1979, Red Mountain Theatre Company (RMTC) is a non-profit professional theatre organization with an emphasis on musical theatre. RMTC provides unique educational, training and performing opportunities for aspiring and culturally diverse artists, while growing new and existing audiences through quality theatrical experiences.