Emergency Management: It Takes a Village
Emergency Management: It Takes a Village
10/16/2013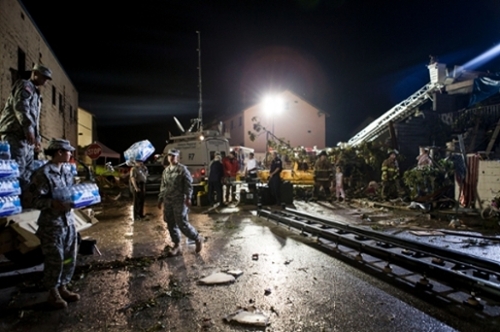 By Ashley Siskey, Graduate Assistant in JSU's Public Relations Office
Jacksonville State University's Department of Emergency Management (EM) took over the MOUT (Military Operations on Urban Terrain) facility at the former Ft. McClellan in August to shoot a thirty-second commercial highlighting the different facets of the emergency management field and the importance education is playing as the field strives for industry standards.
MOUT is a village – a literal village – that was transformed from a Middle Eastern city to the scene of the aftermath of a devastating tornado. In developing the concept, Dr. Jeff Ryan, department head for EM at JSU, and Ford Wiles of BIG Communications, the advertising agency managing the commercial, wanted to bring in local first responders to showcase the partnership these agencies already have in place when faced with disaster situations. "We have everyone who would be a full complement in community disaster response. They will be here with all of their vehicles and bring realism to the set," says Dr. Ryan.
Participating agencies included: Jacksonville Fire Department, Anniston Fire Department, Piedmont Fire and Rescue, Calhoun County Emergency Management Agency, Calhoun County Sheriff's Department, Calhoun County Civil Defense and JSU ROTC. Family members of JSU faculty, as well as a few JSU film students, played several of the victim roles.
In order for the set to be realistic, Six Foot Five Productions in conjunction with BIG Communications brought in two truckloads of trees, two truckloads of house debris (furniture, toys, pictures and general home goods) and a destroyed vehicle to decorate the street scene. Members from the participating agencies led by Jonathan Gaddy, Calhoun County EMA director, simulated real-life response tasks.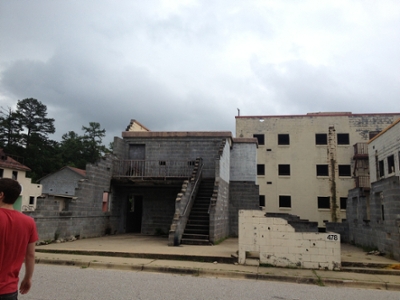 "When we were approached by Dr. Ryan and JSU, they really wanted to show what emergency management is about for prospective students interested in careers in public safety. The commercial is a great opportunity for us to exercise some of the partnerships that make emergency management effective," says Gaddy.
It took several months to coordinate all of the community resources and agencies, culminating in two-and-a-half days of prepping the site and six hours of continuous shooting. Dr. Ryan extended his gratitude for the agency support saying, "We couldn't have pulled this off without our local emergency management partners. Thank you for your time, expertise and professionalism – it's going to result in a great finished product."
Dr. Ryan voiced special thanks to Jonathan Gaddy for playing the lead acting role, as well as for being instrumental in helping pull together the community of first responders: "We couldn't have a better partner or colleague than Jonathan Gaddy. He continually supports our goal that EM education helps first responders be successful and more functional in their practice, especially when EM professionals find themselves in challenging disaster situations."
The commercial, produced by Dan Atchison and directed by Jason Wallis, both of Six Foot Five Productions, was filmed by using a motion control unit on tracks – the kind of camera equipment used in major Hollywood productions. Actors (i.e. volunteers from the community and agencies) were instructed to stay frozen as the camera panned the scene. An ROTC member is unloading cases of bottled water; ranking officers on site for each participating agency are collaborating around a table; a mother and child are being tended to by a volunteer worker; rescue, fire and law enforcement personnel are coordinating search and rescue efforts; and the EMA is managing communications via their mobile command unit. After the camera pans the frozen scene, actors spring into action, managing their respective areas of the disaster scenario. It's organized chaos – the kind of organized chaos that saves lives day after day.
JSU has one of ten emergency management doctoral programs in the country and offers a variety of undergraduate and graduate degrees, as well as certifications. Undergraduate options include a Bachelor of Science in EM, an EM concentration within the Master of Public Administration (MPA) program and minors in EM, homeland security and public safety telecommunications. Graduate level options include a traditional Master of Science in EM and a master's level certificate.
All programs are online, giving students the freedom and flexibility to complete assignments according to individual schedules. "Most EM majors are non-traditional students as they are working professionals. Military, law enforcement, security, fire, EMS, public safety telecommunications, healthcare, business, education, government and emergency management backgrounds, to name a few, are enrolled in our programs. Over the years, when considering our students overall, we have had emergency management students from all fifty states and have been represented on all seven continents," Dr. Ryan explains.

To-date, JSU has awarded 262 Bachelor of Science in Emergency Management degrees, 269 Master of Science in Emergency Management degrees and 145 Master of Public Administration with Emergency Management concentration degrees, along with a total of 151 graduate Emergency Management certificates.
For more information regarding the Emergency Management program, please contact Dr. Jeff Ryan at (256) 782-8334 or jryan@jsu.edu.
This article originally appeared in the "Town and Gown" section of the Jacksonville News. 
Pictured above: The final commercial set, complete with debris, victims and first responders. Photo courtesy of BIG Communications.
Pictured below: The commercial set before production. Photo courtesy of Rylee Roquemore, BIG Communications.