Cpt. Kyle Comfort 5K Slated for Veteran's Day Weekend
10/15/2013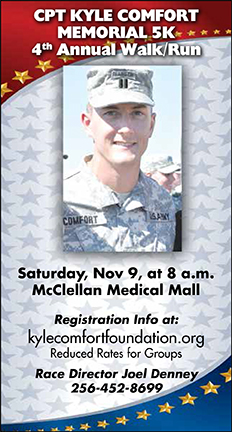 Hundreds of runners, joggers, and walkers are expected to take part in the 4th annual Cpt. Kyle Comfort Memorial Foundation 5K Walk and Run, Saturday, Nov. 9 at 8:00 a.m. at McClellan Medical Park in Anniston.  The event is the single largest fundraiser for the Cpt. Kyle Comfort Foundation which provides, among other things, financial support for wounded warriors and their families.
Cpt. Comfort, a Jacksonville State University graduate, was killed in Afghanistan on May  8, 2010 while serving as an Airborne Ranger in the United States Army.  The Foundation was established to honor not only Kyle but also to respect the service of all veterans, family members and those still in uniform.
"Holding this race close to Veteran's Day gives people a perfect opportunity to support all who have served our country," said Race Director Joel Denney.  Support from the Blue Star Salute Foundation of Alabama is an added feature.  Race bibs bear the name of an Alabamian that died in Iraq or Afghanistan and each participant runs or walks in honor of that person as well.  "Those who take part say it is a very personal experience," said Denney.
Kyle's widow, Brooke, said the Foundation was established to honor Kyle but has become much more.  "I am proud that Kyle lives on through the Foundation but more importantly that it can help so many more true heroes," she said.
For more information about the Foundation or the race, go to www.kylecomfortfoundation.org.