Beat It! A Domestic Violence Awareness Event
Beat It! A Domestic Violence Awareness Event
10/14/2013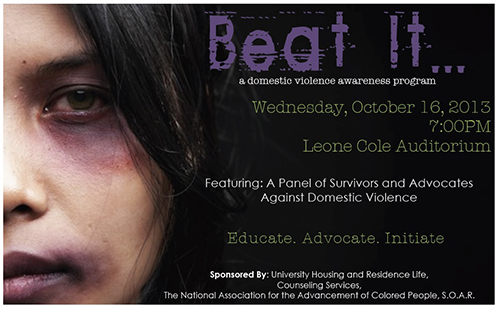 Consider these statistics:
32% of college students report dating violence by a previous partner and 21% report violence by a current partner. 
Females' ages 16-24 experience the highest per capita rates of intimate violence-a rate almost triple the national average.
In the United States, a woman is more likely to be assaulted, injured, raped or killed by a male partner than by any other type of assault.
Nearly three out of four (74%) of Americans personally know someone who is or has been a victim of domestic violence. 
According to the FBI, an incident of domestic violence occurs every 9 seconds in this country.

Please join University Housing and Residence Life, Counseling Services, the JSU Chapter of NAACP and SOAR in recognizing October as Domestic Violence Awareness Month. A panel of survivors and advocates will share real stories about overcoming abusive relationships on Wednesday, October 16 at 7:00 pm in Leone Cole Auditorium. Come learn more about this important topic and celebrate those who have survived intimate partner violence.
Attendees will have a chance to win a free 32" television and other door prizes.