Alpha Omicron Pi, Atlanta Braves and Arthritis Foundation Join to Help "Knock Arthritis Out of the Park"
10/14/2013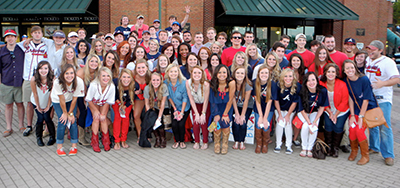 On Thursday, September 26, Alpha Omicron Pi partnered with the Atlanta Braves and the Arthritis Foundation in hopes to "Knock Arthritis Out of the Park." This Braves game annually raises a tremendous amount of money for the Arthritis Foundation.  AOII chapters from all over the southeast come to support this event and their international philanthropy.  

The Delta Epsilon chapter of Alpha Omicron Pi at Jacksonville State University participated in this event in Atlanta for their "AOII Date Night" by bringing 95 students from JSU to the game.  The JSU AOII chapter alone raised $570 for the Arthritis Foundation by purchasing tickets.  Furthermore, one of our own AOIIs at JSU, Lauren Watkins, had the honor of being the Honorary Team Captain for the Braves!