Zeta Tau Alpha Begins "Think Pink" Month at Sept. 28 Football Game
Zeta Tau Alpha Begins "Think Pink" Month at Sept. 28 Football Game
09/25/2013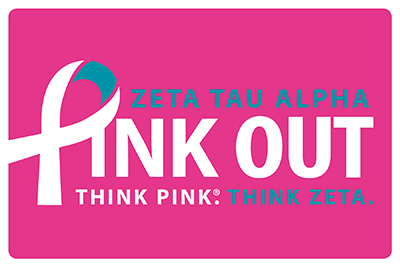 Zeta Tau Alpha's Annual Think Pink® Month will begin with this Saturday's JSU football game on September 28th, where the Zetas will host a Pink Out game and "Shake It For A Cure" event.  The Zetas will be accepting donations for the cause and distributing pink pom-pom shakers. ZTA encourages all fans to wear pink to the game. 

Several Breast Cancer survivors will join the Zetas on the field prior to the game for a balloon release to symbolize that we are all rising to the challenge of finding a cure for Breast Cancer!  If you would like to be a part of this special event, please contact Emmalie Cole at ecole@jsu.edu.

For the next several weeks, members will be selling large pink bows to business owners, JSU faculty and staff, and members of the community in preparation for this Breast Cancer Awareness event.  To purchase a bow please contact Holly Inhulsen at hinhulsen@jsu.edu. 

The Zetas at JSU are also collecting Pink Yoplait® lids for Yoplait's Save Lids to Save Lives® program throughout the month of October.  Drop boxes are located throughout the campus at JSU or can be sent to Zeta Tau Alpha, JSU Box 3048, 700 Pelham Rd North, Jacksonville, AL 36265.

Each year, ZTA raises more money for its philanthropy than any other student organization, and with the success of Think Pink® Month, this year will prove no exception.  All of the proceeds from Think Pink® Week will go to Breast Cancer Awareness and Education, and the Zetas hope to top the $18,000 they raised last year for the cause.  Donations can be made to Zeta Tau Alpha Foundation, are tax deductible, and can be sent to Zeta Tau Alpha, JSU Box 3048, 700 Pelham Rd North, Jacksonville, AL 36265.

Zeta Tau Alpha was founded in 1898 at the State Female Normal School (now Longwood University) in Farmville, Va., and has more than 211,000 members worldwide. Breast cancer education and awareness became ZTA's national philanthropy in 1992 and the organization partners with Susan G. Komen for the Cure®, Yoplait®, the National Football League and SELF magazine to promote awareness. Think Pink® is a registered trademark of Zeta Tau Alpha.