JSU Offers Free Disaster Response Training to Students, Community
10/01/2013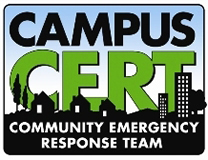 Have you ever watched footage of disasters unfolding, wishing you could help with the recovery efforts? Are you unsure of what you could do or how you could help others in your community? Would you like further training so that you are able to respond safely and effectively? If so, Community Emergency Response Team (CERT) training is for you!
Jacksonville State University (JSU) Campus CERT is proud to announce their first CERT training class! This free course is open to JSU students, staff, and faculty as well as the general public. While students, staff and faculty will be trained to respond to campus emergencies, residents of Calhoun County will also learn how to prepare for and respond to incidents in their communities.
Classes will be held from 6:30 – 9:30 p.m. at the following dates and locations (All dates are required for certification):
Oct 1 - Houston Cole Library - Room 1103A
Oct 8 - Houston Cole Library – Room 1103A
Oct 15 - Wallace Hall Auditorium
Nov 12 - location TBA
Course topics include: emergency preparedness, disaster psychology, search and rescue, first aid, terrorism, fire safety, and more!
This program has been in the works for quite a while as Melonie Carmichael with JSU Police Department explained, "After the storms this past spring semester caused damage to a campus apartment complex, JSU Police saw the important need for a Campus-CERT, which would provide a structured opportunity for staff, faculty and students to not only augment the Department of Public Safety and local first responders in time of emergency, but also provide them with the training and education needed to survive the first 24-48 hours of any type of disaster."
"CERT training will help individuals learn how to stay safe, help others, and be better prepared when disaster strikes," Dr. Jane Kushma, professor at JSU, added. "The more people who know what to do, the more resilient our campus community will be."
Carmichael also stressed that it is important to "create a culture of preparedness by increasing the knowledge and skills that the students, faculty, staff, and residents of Calhoun County need to safely handle disaster and emergency situations when professional responders are not immediately available to help."
If you have any questions about the training please contact Melonie Carmichael at JSU Police Department by phone 256-782-5282 or email mcarmich@jsu.edu. Also, you can "Like" JSU Campus CERT at facebook.com/jsucampuscert for up to date news and information.