CORE Academy Unites JSU and Surrounding Schools for a Brighter Tomorrow
CORE Academy Unites JSU and Surrounding Schools for a Brighter Tomorrow
09/19/2013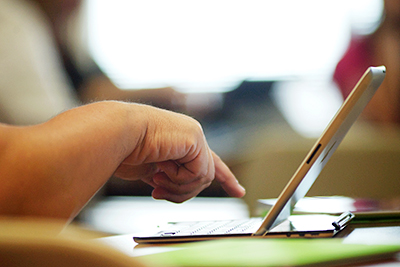 By Heather Greene, a graduate assistant in the Office of Public Relations at JSU
Children being allowed, even encouraged, to make use of their smartphones, ipads, and other electronic devices during school hours? Sounds absurd, right?
Well, by embracing and harnessing today's cutting edge technology within the classroom, educators are preparing children early-on to more easily step into the digital world of the 21st century. This is part of what the CORE (Collaborative Regional Education) Initiative seeks to do.
In 2010, JSU began a learning environment transformation with the Red Balloon initiative and Strategic Plan development, which seeks to define JSU as a "learning centered university," according to Dr. Alicia Simmons, executive director of the JSU Institute for Research and Collaboration (IRC), who works with an executive team to provide oversight and direction for the CORE Initiative. The executive team includes Dr. Rebecca Turner, provost and vice president, Academic and Student Affairs; Vinson Houston, vice president, Information Technology; Lisa Williams, associate dean, Arts and Sciences; Dr. John Hammett, dean of the College of Education and Professional Studies; and Matthew Akin, superintendent of the Piedmont City School System.
"This concept aligns with all the forward thinking in education and now positions JSU as a leader in collaborative education efforts," says Dr. Simmons. "While we focused on expanding new methodologies and technologies in our classrooms, it became apparent that PK-12 school systems were going through the same thing. When we all joined together and formed the CORE  partnership, we began finding ways to learn from each other."
The vision of CORE is "to transform K-12 and higher education so students are increasingly engaged, instructors are increasingly innovative, and educational institutions are increasingly supportive of system-wide change and community-wide partnership building"
The Piedmont City School System was the first to approach JSU about forming a learning partnership and is now one of the nearly twenty partners joined together with JSU to work toward achieving a technologically advanced learning environment. These partners cover a total of almost 100,000 students in the northeast Alabama area.
The six CORE components of the partnership are: 1) partnership-building; 2) technology; 3) project-based learning; 4) teacher support; 5) dual enrollment; 6) change management.
This past June, JSU hosted the inaugural CORE Academy, which served 264 educators, teachers, technology directors, superintendents, and curriculum coordinators from the local school systems in the partnership.
JSU project manager, Lynn Garner, served as the conference manager for the CORE Academy and workshops, coordinating all of the logistics, public relations and other needs to support each workshop and academy.
This insightful three-day conference brought together educators from our region and provided them with multiple instructional sessions geared toward learning how to best incorporate technology into their classroom.
Presentations were made by various teachers, superintendents, administrators, JSU faculty, and sponsors from around the area. Also, nationally recognized keynote speaker, Dr. Mark Milliron, was among those who presented. Student leadership teams from various schools also presented their own observations of the benefits of how technology is being utilized in their schools.
From an evaluation conducted after the CORE Academy, 91% of the attendees planned to implement what they learned and 90% reported that the technologies and methodologies shared were useful (source: JSU Office  of Planning and Research).
Erika Bell, ESL instructor at Saks Elementary School, said, "I have been very impressed with this year's conference and look forward to coming back in the future."
Brigett Stewart, gifted specialist at Kitty Stone Elementary School, stated, "Awesome conference! I learned so many useful ideas to implement in our school system."
The next CORE Academy will be June 3-5, 2014 and will be held on the campus of JSU again. The call for presentations will open January 2, 2014 and close on April 1, 2014. Registration for the academy will open in April 2014.
"The next step for CORE will include the development of an ecosystem," explains Dr. Simmons. "The CORE team will expand support to classroom teachers by providing them with a learning management system housing high quality courses, designed by high quality teachers and vetted by subject, technology and curriculum design experts. The result will be creation of the CORE ecosystem, a repository of high quality courses and a learning community for teachers in northeast Alabama with the potential to expand quickly."
However, before that, there will be a "Technology for IT Directors" workshop held on November 15, 2013 and a "Learning Management Systems" workshop on February 13, 2014.  
For more information or to register for the CORE Academy or other upcoming CORE events, please visit www.corepartners.org. 
This article originally appeared in the "Town and Gown" of the Jacksonville News.