Oh, My Gelato! JSU Students Take on Italy
Oh, My Gelato! JSU Students Take on Italy
07/17/2013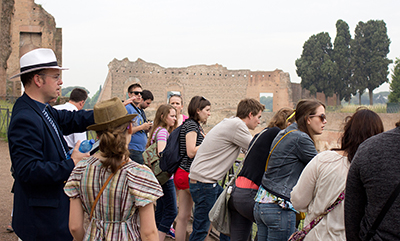 In May, seventeen JSU students and several professors crossed the Atlantic Ocean for a three-week excursion in Italy. An opportunity that comes around every other May, the tours include major sites around the city of Rome, such as the Coliseum, Pantheon, Forum and St. Peter's Basilica in Vatican City. The tours also include day trips to other Italian cities such as Florence and Orvieto. And, as with any tour to Italy, museums such as the Vatican and Borghese are on the roster, as well. 
Students represented various departments across campus. Dr. Donald Prudlo, associate professor of ancient and medieval history, has been to Italy numerous times and explains, "The primary objectives of the trip are to encourage cross-cultural literacy, to engage with other ways of doing things, to immerse students in the riches of western tradition and to study history where it happened." After each day of touring, students participated in a colloquy, or discussion, that focused on that day's historical sites and assigned reading. 
One Roman observation that both a seasoned traveler like Dr. Prudlo and first-time student travelers have in common is their appreciation for the long lunchtime breaks taken by the Italians that are often followed by an afternoon nap. Rome is a major city and can be quite fast-paced, however, the city literally slows down and many places close for a few hours after midday to accommodate leisurely afternoons. 
David Rickless, a sophomore geography major, says the favorite part of his days was getting up in the mornings and walking to the local café or the Trionfale market five blocks away to get a croissant and cappuccino. The Trionfale market boasts fresh fruit, vegetables, cheese, meats and fish in an area as big as a department store. He also became a huge fan of gelato (Italian ice cream) saying, "I'd go back just for the gelato if I could!" 
The hardest cultural adjustment for Mr. Rickless to master was the art of giving exact change in euros, as many of the shop keepers are not fans of making change for larger bills. On the other hand, Mr. Rickless witnessed scenes that reminded him of home. One night during their three-week adventure, the rival soccer match between Lazio and Rome took place with Lazio coming out triumphant. The Lazio fans raced around the city, honking their horns and waving their flags. Mr. Rickless said it was very similar to how football fans in the South react to a big win. 
Some of the more interesting parts of the trip were excursions to unique and smaller areas of the Italian countryside. Dr. Prudlo is particularly fond of traveling to Ostia Antica, a harbor city thirteen miles west of Rome. Ostia is the Latin word for "mouth," and refers to the city's location at the mouth of the Tiber River. Travelers are treated to a glimpse of how people lived 2000 years ago with ancient baths, temples and a theater.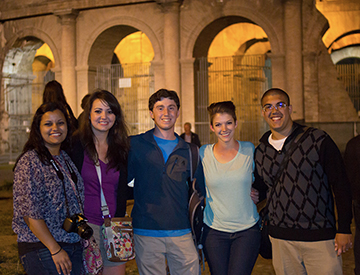 "One of my favorite things to do is to take the students down narrow streets which all of a sudden open up to stunning vistas, be it the marvelous Cathedral façade of Florence or the rolling Umbrian country side of Orvieto. I just turn to watch their faces as they round the corner," says Dr. Prudlo. 
Students are in constant awe during the excursion to Orvieto, an hour north of Rome by train. Orvieto is situated on an extinct volcano and has a vast network of underground tunnels. This underground area has been used for various purposes throughout the years including as a means of escape from enemies attacking the city to a bomb shelter during WWII. The city is also home to the Orvieto Cathedral, considered to be one of the world's most beautiful, and out of the ordinary, as it is also referred to as the "striped" cathedral. 
Mr. Rickless said the group saw a lot of cathedrals on the tours, but the most memorable to him was Sant'Agnese in Agone, located in Rome adjacent to the Piazza Navona. When the group went to tour the church in the morning, much to their disappointment it was closed. However, a few students decided to return that evening to see if the church was open, and they stumbled upon an ongoing service. Mr. Rickless says, "The candlelight was highlighting the architecture, and the singing filled the space in a beautiful way. I felt as if that was how these buildings were meant to be experienced." 
For more information about this story, please contact the Office of Public Relations at (256)-782-5636. 
Photo: Dr Prudlo instructs students as they tour the Forum in Rome. Pictured (l-r): Steven Chubay, Torsten Dryden, Kristen Carlisle, Nabila Haque and Mae Bryant. Photo courtesy of David Rickless.
Photo: JSU students Nabila Haque, Taylor Findley, David Rickless, Cassidy McDougale and Ben Brice outside the Coliseum at night. Photo courtesy of David Rickless.