JSU Season Football Tickets Now Available
JSU Season Football Tickets Now Available
07/18/2013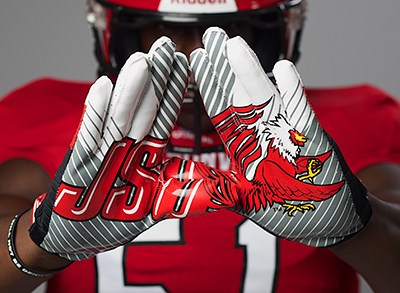 Less than 45 days remain before the start of the Bill Clark era of Jacksonville State football and season ticket plans are available now through the JSU Ticket Office and online.
The Gamecocks start the Bill Clark era with six home games, the most in a regular season since 2002, and season tickets can be purchased for as little at $43 per seat. JSU's first game at Burgess-Snow Field will be against Jacksonville University on Sept. 7.
General admission tickets are just $90 for the season, but the Gamecocks are offering the popular JSU Family Pack for the third year in a row to offer a more budget friendly way to catch every snap of their 2013 home slate. The Family Pack is just $175 and includes four general admission season tickets. It also allows you to add additional seats for just $10 each.
There is also a limited number reserved seats that still remain for the 2013 season, including Club Level Stadium seating. The Club Level Seating gives fans exclusive access to the indoor club level as well as a reserved chair back seat. Those also include a pregame meal by 'Classic on Noble' before every game, fountain drinks and snacks throughout the game, and reserved parking for every two tickets purchased under one name. The Club Level Seating costs $550, a price that includes the required donation and ticket and food costs. 
There are also reserved seats in the Champions Level available for $210 per seat, a price that includes the required $100 donation to the general fund of the Gamecock Club.
JSU will open the season on the road at Alabama State in Montgomery on Aug. 31 at 5 p.m. Gamecock fans that wish to attend the season opener against the Hornets are encouraged to purchase their tickets at a discounted rate of $25, which will guarantee them a lower-level seat in the JSU section. 
The Gamecock Club is sponsoring a Bus Trip to the ASU game. For just $55 per person, fans will receive a seat on a charter bus that will leave from JSU on the day of the game, as well as a ticket in the JSU section at ASU Stadium. For information on the bus trip, please call Jan Evans at (256) 782-5368. 
All season ticket plans and tickets to the Alabama State game are available for purchase online at www.jsugamecocksports.com or at the JSU Athletics Ticket Office in Kennamer Hall. For ticket questions, please call (256) 782-8499 or 1-877-JSU-TIXX.