JSU Delegates Attend Zeta Tau Alpha National Leadership Conference
JSU Delegates Attend Zeta Tau Alpha National Leadership Conference
07/22/2013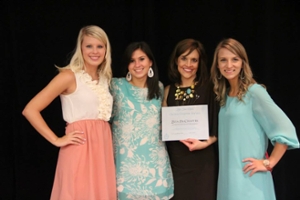 On July 11-14, 2013, Zeta Tau Alpha sorority held its biannual National Leadership Conference in Indianapolis, Indiana, home of the sorority's International Office.  National Officers and delegates from each of ZTA's collegiate chapters across the country attended the conference, which provided intensive programming on this year's theme of "Take Charge."  Delegates attended workshops led by past National ZTA President Alice Mathews, current National Vice President Collegiate II Lynn Chapman, and guest speaker Dr. Lori Hart.  Delegates also enjoyed a tour of the Zeta Tau Alpha International Office, where the sorority is officially headquartered.
JSU delegates Katie Ledbetter, President; Taylor Stewart, Social Chairman; and Melissa Minor, chapter Motivational Chairman, were honored to receive awards on behalf of their chapter.  Zeta Psi chapter of ZTA at Jacksonville State took home the Quota/Total Award for maintaining maximum chapter size all year, the Helping Hands Award for assisting with extension efforts at the University of West Georgia, and the prestigious Crown Chapter Award, which is awarded by ZTA National Council to collegiate chapters who maintain excellence in all facets of chapter programming, service, recruiting, finances, scholastics, member involvement, and chapter management.  Accompanying the collegiate delegates was JSU graduate and ZTA alumna Kendall Hollen Tankersley, who serves as the chapter's Programs Council Advisor and was one of only two alumnae advisors selected to attend the Conference this year.
Last year, at the Zeta Tau Alpha Convention, held in Louisville, Kentucky, JSU's ZTA chapter was awarded First Runner Up to the Standards and Enrichment Award, a coveted National ZTA Silver Award that places JSU's chapter among the top twenty-five chapters of ZTA nationwide.  In
July 2014, delegates will again travel to Convention, to be held in Los Angeles, California, and the chapter is working toward bringing home yet another National ZTA Silver Award.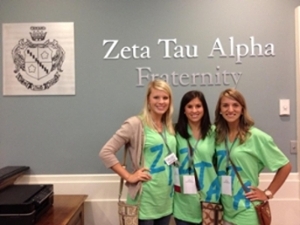 Zeta Tau Alpha was founded at Longwood University in Virginia in 1898, and is now third largest among the 26 national Panhellenic sororities, with 248 collegiate ZTA chapters, 239 ZTA alumnae organizations, and over 224,940 members worldwide.  Zeta Psi Chapter at JSU was chartered in 1969.  This past year, ZTA at JSU was awarded the President's Gold Cup and was recognized for the highest sorority and new member GPA, with a 3.24 chapter average for the Spring 2013 semester.  In addition, they raised over $30,000 for their national philanthropy, Breast Cancer Education and Awareness.
Zeta Tau Alpha will participate in JSU's Panhellenic Recruitment of new members
August 15-19, 2013, and encourages all unaffiliated women to register for Formal Recruitment through the JSU Student Life website.  For more information about ZTA at JSU, visit jsu.zetataualpha.org, follow @ZTAJSU on Twitter, and "like" Zeta Tau Alpha at Jacksonville State on Facebook.  
Top photo-- JSU Delegates Receive Crown Chapter Award. Pictured left to right: Katie Ledbetter, President; Melissa Minor, Chapter Motivational Chairman; Lynn Chapman, National Vice President Collegiate II; and Taylor Stewart, Social Chairman. Above-- JSU Delegates Visit ZTA International Office.  Pictured left to right: Katie Ledbetter, Melissa Minor, and Taylor Stewart.