JSU Cheerleaders, Cocky Make Great Showing at UCA Camp
JSU Cheerleaders, Cocky Make Great Showing at UCA Camp
07/24/2013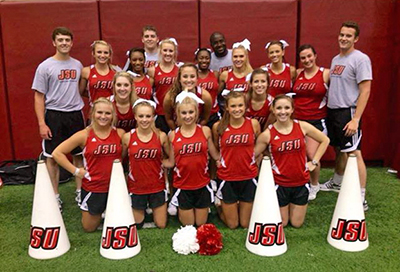 The Jacksonville State University cheerleaders turned in a stellar performance at the Universal Cheerleader Association's camp, held at the University of Alabama.

The Jax State cheerleaders, along with Cocky, were among the 1,400 cheerleaders, mascots and college dance squads from around the nation on the UA camp this past weekend.  The overall goal of the camp is to learn new cheers, sideline chants, fight song dance, stunts and pyramids.  JSU competed against other schools in Small Co-Ed Division I portion of the camp.

The 2013-14 squad nabbed second place in the fight song competition, while also garnering fourth place in the sideline section.  JSU placed fifth in overall game day competition.  The Gamecocks' spirit squad also received two Superior Evaluation Ribbons along with an Excellent Evaluation Ribbon and Gold Evaluation Ribbon.

Cocky, the famed bird on campus, also recorded high marks in the mascot competition.  Cocky finished fourth overall among 42 other mascots that represented 21 teams and finished behind in-state foes Big Al, from Alabama; Aubie, from Auburn; Southpaw, from South Alabama.

He brought home three Superior Evaluation Ribbons and was asked to be on the prestigious UCA Mascot Staff.

The 2013-14 JSU Cheerleaders and Cocky will make their season-debut at JSU's annual Fan Day on Sunday, Aug. 11.