JSU's John Carrasquillo Receives Scholarship Grant from the Department of Defense and National Security Agency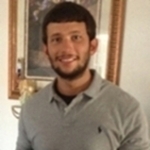 The Department of Defense (DOD)/National Security Agency (NSA), through its Information Assurance Scholarship Program (IASP), has awarded Jacksonville State University a scholarship designated for John Carrasquillo, a senior majoring in computer information systems with an information assurance concentration.                        
During the current funding period, the application success rate for this highly competitive scholarship is merely 17%. Carrasquillo will be receiving a $17,000 stipend, in addition to $9,600 to be used for tuition, fees, and books. 
Carrasquillo states, "Hard work, dedication, perseverance, and faith have driven my success. I am elated and am certainly blessed to be given this opportunity and intend on taking full advantage of it."
 Dr. Donnie Ford, Department Head and Professor of Computer Science at JSU, states, "John is an excellent student. This is evidence that our undergraduate students can compete with other national universities."
Photo: John Carrasquillo
06/03/2013