Flash Forward- New Jacksonville Studio will Propel State Film Industry
Flash Forward- New Jacksonville Studio will Propel State Film Industry
06/25/2013
By Emil Loeken, a graduate assistant in the Jacksonville State University Office of Public Relations
Can you imagine box office celebrities in your neighborhood? Some may say it is crazy. But Pete Conroy, director of JSU's EPIC, Field Schools and Canyon Center and chairman of the new NE Alabama Entertainment Initiative, thinks Jacksonville could become a little Hollywood, especially through partnerships with producers, directors and film centers like Baton Rouge, Louisiana. 
Conroy's involvement started when he worked for Governor Don Siegelman, heading the Alabama Commission for Environmental Initiatives (ACEI). The ACEI was one of the largest commissions ever put together by a governor in the history of Alabama with 60 prominent members from across the state.
"We were looking at what we could do in Alabama in order to develop clean industry. We were identifying the state's environmental problems and how we could fix them," Conroy said. "Never in a million years did I think that the big commission would agree to focus on the entertainment industry as a key to environmental concerns." 
After the work of many, Governor Bob Riley signed the Alabama Entertainment Industry Initiative Act of 2009 into law. It brought incentives to the film industry allowing Alabama to get on the playing field with other states looking to attract the film business. 
"I think it was a month after the bill was passed, Sen. Del Marsh (R-Anniston) and Rep. Richard Lindsey (D-Centre) went to the Canyon Center and discussed how we could take advantage of this opportunity," Conroy said. "I was grateful that they appropriated funds to JSU and entrusted my office to take the ball and run with it."
Soon, the Northeast Alabama Entertainment Initiative (NEAEI) was formed with Conroy, Rep. Lindsey, Sen. Marsh, Dr. William Fielding, dean, College of Commerce and Business Administration (JSU), and Nisa Miranda, director, Center for Economic Development (Univ. of Alabama) as its board. 
According to Conroy, the NEAEI wanted to aid in the development of a workforce, so a minor in film entertainment technology was instituted at JSU. Conroy looked to Hollywood veteran Jeffrey Nichols for his expertise. Nichols was thrilled to work for JSU as an artist in residence, bringing with him more than thirty years of experience in Los Angeles as a camera operator and director of photography for the Grammy, Emmy, and BET Image awards.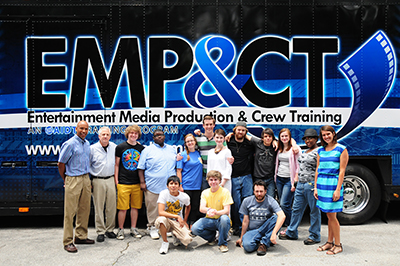 "Jeffrey has been perfect for the position," Conroy said. "His students are already getting jobs in the business."
In addition to establishing a workforce, the NEAEI has to attract real projects. 
"I look at it as a three-legged stool," Conroy said. "The first leg symbolizes the incentives program, the second is the workforce, while the third leg represents projects like television shows and film productions right here and in our neighborhood."
"Our state has great locations with mountains, streams, cities, agricultural fields, as well as interesting places, good looking people, and so forth. However, without a studio, it is hard for the entertainment industry to bring their productions," Conroy said. "We focused in on the development of a studio close to campus so the students would be able to use it as a teaching tool and learning resource. With the help of Mayor Johnny Smith, we found exactly what we needed."
With 18,000 square feet and 23-foot tall ceilings, the NEAEI christened it Longleaf Studios, built out four separate studio spaces, and built the largest green screen in the state of Alabama. 
"The green screen is where camera operators, producers, and directors make magic from the color of a wall," Conroy said. "Essentially, what happens is that an actor or actress acts in front of a green screen. With digital technology, editors can transform the shot into any graphic imaginable whether it is outer space, a cow pasture, Manhattan, or the bottom of a deep blue sea. It is almost unbelievable how the people in the editing booth create beautiful sceneries and effects out of an act performed in front of a freaky looking lime green wall."
In a short amount of time, the Longleaf Studios has seen a lot of activity. From June 17-21, the NEAEI hosted a teacher workshop as well as a student film week where the participants gained valuable hands-on skills. The film campers got to enjoy the experience and expertise from JSU instructor Nichols and Chuck Bush (former actor in Fandango, producer, writer, and director of several family films and television projects). The students also got to use $2 million worth of equipment rolled in from Montgomery on an Entertainment Media Production and Crew Training (EMPACT) truck as part of Alabama Industrial Development Training's mission as a mobile training provider.   
According to the students, the camp will be beneficial to their future. Film week camper Alex McFry believes it has been an amazing introduction to the industry.
"I still have not wrapped my mind around the fact that this is going on so close to home (Jacksonville)," McFry said. "All my technical questions have been answered. Everything I have learned this week about lighting, acting, and how to compose yourself will allow me to walk onto a set with some valuable experience in my back pocket."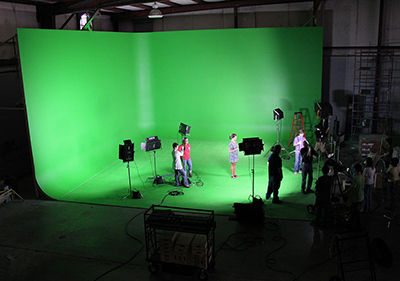 Indeed, McFry declined his acceptance letter to attend the New York Academy of Film in order to jump in at JSU. 
Janá Tolliver thinks the camp was perfect.
"Overall I am here to learn," Tolliver said. "Knowledge is always your greatest asset in life no matter what you are doing. I feel like nothing is ever a waste if you can take your knowledge and get what you want done. The possibilities seem endless now that I have an idea of how things work. It has been a wonderful opportunity to get to work and put my hands on all the professional equipment. It officially has my fingerprints all over it!"
According to Conroy, it has been one of the most satisfying weeks that he can remember.
"Two weeks prior to the camp, we had an idea that maybe there could be some local interest in a film camp for high school students," Conroy said. "One thing led to another and the next thing we know, we were booked to full capacity. We even had folks on waiting lists and I have been contacted every day by people asking when we will do it again." 
In addition to the teacher workshop and student film camp, the Longleaf Studios has received significant interest from production companies. 
"We have had over a dozen producers and directors ask about our space," Conroy said. "Where we will go from here is yet to be determined, but from an outsider's point of view, I'm told we are already ahead of the curve."
Conroy would like to invite anyone interested in a film or a film curriculum at JSU to meet with the NEAEI and talk about how they can use Longleaf Studios for educational purposes or for the production of a video project.
To learn more about the NEAEI and the Longleaf Studios, go to http://neaei.org/
Photos: Scenes from the Longleaf Studios Summer Film Camp (Emil Loeken and Graham Lewis/JSU)