Mountain Longleaf National Wildlife Refuge to Mark 10 Years with June 1 Conservation Festival
Mountain Longleaf National Wildlife Refuge to Mark 10 Years with June 1 Conservation Festival
05/30/2013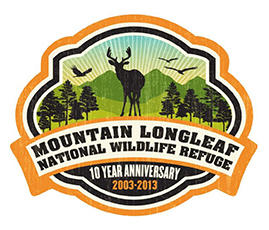 Celebrate 10 years of conservation at the Mountain Longleaf National Wildlife Refuge on Saturday, June 1 during a special event inside the refuge on Bains Gap Road, northeast of Anniston.
The Conversation Festival will take place from 10 a.m. - 2 p.m. and includes everything from children's activities to live animal demonstrations. From 8 a.m. - 10 a.m., there will also be bird watching and archeology hikes (registration required by calling 256-848-6833).
The birdwatching hike will be lead by Wheeler National Wildlife Refuge Project Leader Dwight Cooley, one of Alabama's premiere birders. The archeological hike will be lead by Harry Holstein, professor of archeology and anthropology at Jacksonville State University. Holstein has done extensive research of the cultural resources found on the refuge. Both hikes will last approximately two hours.
Also on tap are the following special programs:
Hiss and Slither presented by Renee Morrison, JSU Field School (10:30 a.m.);
Ranger A.L. Parks Puppet Show by Mary Carracino, Cheaha State Park (11 a.m.);
Birds of Prey by Jay Eubanks, Alabama Wildlife Center (11:30 a.m. );
Longleaf Ecosystem Hike, Bill Garland, JSU (12:15 p.m.); and
Presentations and Awards (1 p.m.).
The event is made possible with help from the U.S. Fish and Wildlife Service, Jacksonville State University, U.S. Forest Service, Cheaha State Park and the Friends of Wheeler National Wildlife Refuge.