Introducing JSU's 2013-2014 Ambassadors
Introducing JSU's 2013-2014 Ambassadors
05/30/2013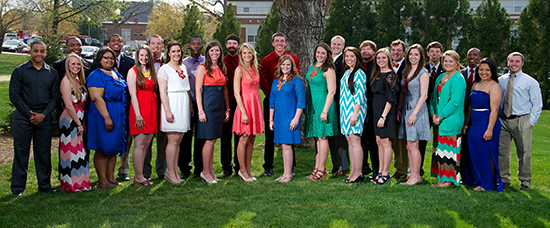 Jacksonville State University's new 2013-14 Ambassadors were recently selected and honored at a special reception at the home of JSU president William A. Meehan.

Ambassadors are selected among the university's highest-performing students to serve as official representatives of JSU. Ambassadors are seen at presidential functions, Board of Trustees meetings and Preview Days. They also travel with the university's admissions counselors to area high schools to provide a first-hand student perspective on life at JSU.

JSU Ambassadors, which began as a group of 15 students more than a decade ago, is now 26 students strong. The group is led this year by Ambassador Administrators Christopher Moon, a junior majoring in social work from Sylacauga, Ala., and Whitney Weiser, a senior majoring in exercise science from Jacksonville.

Other 2013-14 JSU Ambassadors include:

Stephanie Alcott, Steger, Ill.
Cody Beck, Sand Rock, Ala.
Tyler Brown, Beulah, Ala.
Alex Christensen, Marietta, Ga.
Taylor Clabo, Pigeon Forge, Tenn.
Diamond Ford, Birmingham, Ala.
Jennifer Gardiner, Cullman, Ala.
Keaton Glass, Leeds, Ala.
Kayla Haynes, Ringgold, Ga.
Kedrick Holder, Birmingham, Ala.
Darius Hunter, Homewood, Ala.
Dylan Kelley, Sardis, Ala.
Emily Knight, Jacksonville, Ala.
Kelly Martin, Piedmont, Ala.
Lauren McClendon, Rainbow City, Ala.
Danleigh McDaniel, Alabaster, Ala.
Eric McIntyre, Glencoe, Ala.
Aaron Perkins, Atlanta, Ga.
Hailey Scott, Boaz, Ala.
Keri Jo Shaw, Harpersville, Ala.
Scarlett Shine, Phenix City, Ala.
Alex Smith, Clay, Ala.
Price Sparks, Eclectic, Ala.
Marlo Thomas, Anniston, Ala.
Photo: JSU's 2013-2014 Ambassadors (Steve Latham/JSU)