JSU Field Schools Host Environmental Education Association of Alabama Conference at Little River Canyon Center
JSU Field Schools Host Environmental Education Association of Alabama Conference at Little River Canyon Center
03/11/2013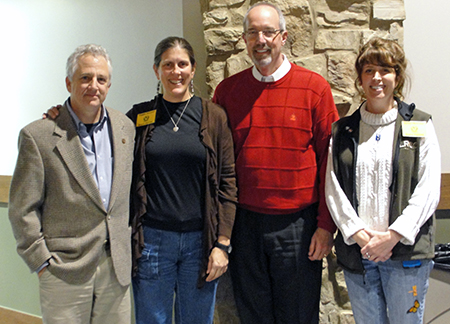 Over two hundred Alabama and Georgia teachers gathered at Jacksonville State University's Little River Canyon Center for the 24th Annual EEAA Conference. The event began on Thursday night, March 7 with Dr. Thomas Bice, Superintendent of Alabama Department of Education, speaking about changes in the state's education system. The conference ended Saturday, March 9 after three days of educational sessions and field trips. 
"Who are THEY?" Dr. Bice asked the crowd who listened as he explained that many of our limitations are self-imposed. "When a teacher comes to me and says that they would like to try a different teaching method but THEY won't allow it, I ask, 'Who are THEY?' and rarely can a name be placed on the entity. I encourage you to teach in unique ways that inspire creativity and thinking in our children which are our greatest natural resource."
"Schools that utilize Environmental Education (EE) in their curriculum have a higher attendance rate and a lower dropout rate than other schools," Bice stated. He gave examples of schools in Alabama that have statistical evidence of this.
Dr. Bice commended Renee Morrison, president of EEAA and assistant director of JSU Field Schools, for her leadership over the past year and for her dedication to children through environmental education. During her presidency, EEAA has led the task force for creating an Environmental Literacy Plan known as Alabama Alive! for the state of Alabama. Dr. Bice has approved the plan and requested that it be shared with the public immediately.
"After hearing Dr. Bice speak, teachers were refreshed and empowered to go back to their classrooms in hope of utilizing EE in all areas of learning including science, math, reading, history, and literature," said Morrison. " I've been an environmental educator for twenty years and I am not alone in believing that the Alabama Department of Education's support of the environmental literacy plan is an incredible step toward improving our children's educational experience and performance as well as preparing them to enter an institute of higher learning."
To read the new environmental literacy plan, Alabama Alive!  visit www.eeaa.us or email rmorrison@jsu.edu to request a copy. For more information about Little River Canyon Center please visit www.canyoncenter.org .
Photo: From left-  Pete Conroy, director of EPIC; Maggie Johnston, vice-president of EEAA; Dr. Thomas R. Bice, superintendent of Alabama State Department of Education; and Renee S. Morrison, president of EEAA and assistant director of JSU Field Schools. (courtesy)