Tony Hulsey is JSU Employee of the Year for 2012
Tony Hulsey is JSU Employee of the Year for 2012
01/11/2013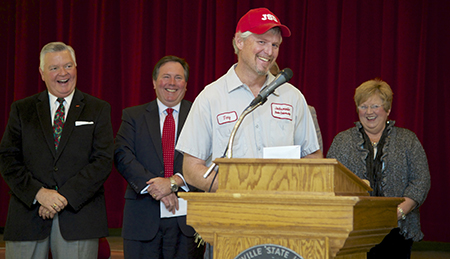 Congratulations to Jacksonville State University's Employee of the Year 2012, Tony Hulsey!
Hulsey is an electrician in the Physical Plant. He received the honor at the annual JSU Staff Luncheon on December 17 in Leone Cole Auditorium. To qualify for Employee of the Year, one must first be chosen Employee of the Month. Hulsey was selected as Employee of the Month in April 2012. He has been a JSU employee since September 1994.
As Employee of the Year, Hulsey received a $500 check and a plaque.
Also recognized at the luncheon were the other eleven employees who received Employee of the Month honors in 2012. Pictured below, they are, from left: Michael Walker, Linda Prickett, Jennifer Evans, Tony Hulsey, Kathy Matthews, Debrah Fragoso, Kerri Reese, Gina Glass, Lora Spivey, Tatum Deason and Debra James (Not pictured- Karen Bates).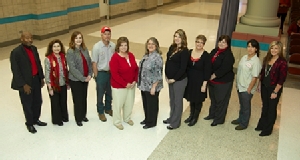 JSU Staff receiving service pins at the luncheon include:
10 YEARS
Don Killingsworth
Allan Ridgeway
Deborah Hood
Denise Davis
Belinda Blackburn
Brenda Young
Judy Anderson
Jane Greene
Susan Gardner
Denise Dasilva
Courtney Peppers-Owen
Carol Kornegay
Kathryn Carter
Martha Dingler
Deanna Bohannon
Kingsley Harbor
Keith Thomas
Ted White
Lynn Varcak
Joe Delap
Stacey Charping
Stephanie Miller
Bonnie Taylor
Rhonda Noah
Tamara Chastain
Michael Devoe
Jerry Perkins
Carl Peruninger
Donyale Richard
Ashley Roper
Robert Schaffer
Brandon Singleton
Gary Beegle
James Cowan
Ona Goodwin
Sid Deerman
Brian Austin
Maxwell Thurmond
15 YEARS
Tom Allred
Jimmy Surrett
Lynne Nabors
Vicki Trammell
Pamela Juper
John-Bauer Graham
Dustin Christopher
Greg Roberts
Sabrina Dempsey
Angela Johnson
Sandra Romine
Kaci Ogle
20 YEARS
Angela Turner
Kristin Johnson
Karen Gregg
Kathy Matthews
Kaye Batchelor
Bill Batchelor
Vickie Adams 
25 YEARS
Lisa Williams
Mike Hathcock
Stephanie Morgan
Terry Marbut
Kelly Roberts
Pam Findley
Richard Riley
Brenda Measles
30 YEARS
Debra Goodwin
Robbie Medders
Sarah Latham
Nancy Turner
35 YEARS
James Hobbs