Michael Chioldi to Appear in Anniston on Jan. 25
Michael Chioldi to Appear in Anniston on Jan. 25
01/18/2013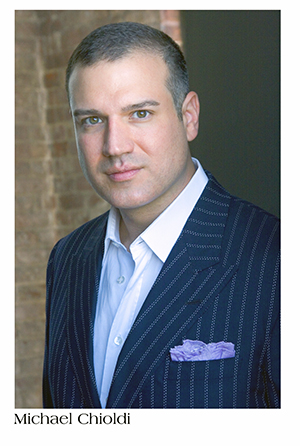 When one thinks of opera, such towns as New York City, Chicago, Los Angeles, and Santa Fe immediately come to mind.  Anniston, Alabama, not so much.  Yet, Anniston will get her moment in the limelight of opera on January 25th as world famous baritone Michael Chioldi gives a performance at First Presbyterian Church.
Mr. Chioldi has performed in some of the world's foremost venues; San Francisco Opera, Washington National Opera, Spoleto Festival USA, and the Metropolitan Opera.  He even received an EMMY Award for his performance of "Sharpless."  The 43-year-old baritone has played many diverse roles starting with his 1995 debut in Washington's presentation of Il barbiere di Siviglia, the title role of Hamlet, Pâris in the Metropolitan production of Roméo et Juliette, to the role of Supervisor Kopp in San Francisco's premiere of the opera Harvey Milk.
With such an impressive pedigree, it is surprising to learn that this sensation of the world of opera enjoys cooking, gambling, and fast cars. His main game is Black Jack and his favourite sports car is the Maserati. He is an avid tennis fan has attended every major in the sport including the Australian Open, the French Open, Wimbledon, and the US Open. Mr. Chioldi also sings a benefit concert for the homeless every December in New York City, where he currently resides.
He made his solo singing debut at the tender young age of nine, in a small church in his hometown of Avonmore, PA., a small farming and mining community with about 500 residents.  He was delivering papers on his regular route, which included the residence of one Rev. Booker, whose daughters (The Booker Sisters) were already quite well known for their singing talents.  The young paperboy heard the ladies singing "His Eye is On the Sparrow".  When Michael told them he knew the song, the sisters invited him to sing it with them and he was immediately asked to sing at the local Baptist church. With his parent's permission, he found himself singing his first public solo. The congregation expressed enthusiastic approval and Michael was hooked.
Michael Chioldi's performance is brought to us by Jacksonville Opera Theatre.  Director of JOT, Dr. Nathan Wight, expresses his enthusiams about being able to bring a singer of Mr. Chioldi's caliber to perform for the local audience, "We are very excited that Mr. Chioldi was able to make a stop here in Anniston between his performances in Palm Beach and Hawaii."
Michael Chioldi will be performing a special concert at Anniston's First Presbyterian Church on Friday, January 25th at 7:30pm.  Admission is free, and donations will be accepted to help defray the cost of Mr. Chioldi's travel expenses. For more information about this event, please contact Nathan Wright at (256)-782-5876. For information about Michael Chioldi, please visit his website. 
--Marc DuPont