Local elementary schools participate in JSU honor choir
Local elementary schools participate in JSU honor choir
01/24/2013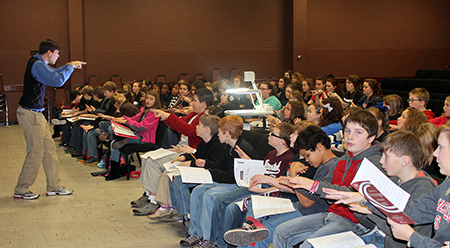 Fourth, fifth and sixth grade students from White Plains, C.E. Hanna, Kitty Stone and Weaver elementaries participated in the annual honor choir held at JSU's David L. Walters department of music on Sat., Jan. 19. The majority of the day, the 90 students were in rehearsals led by guest clinician, Mr. Jeffrey Caulk. Mr. Caulk is the K - 5 music teacher at Bagley and Corner schools in the Jefferson County school system. He also is a choir assistant with the Birmingham Boys Choir.
The highlight of the day for most of the students was lunch in the Jack Hopper cafeteria.
Saturday evening, family and friends of the students were treated to a concert performed by the honor choir in Mason Hall. JSU A Cappella Choir opened the program with two selections, followed by four selections performed by the honor choir. Selections included "March" and "Every Time I Feel the Spirit" by Ken Berg, "Three Quotes by Mark Twain" by Andrea Ramsey and "Good Night" arranged by Doreen Rao. The concert concluded with a joint performance by both choirs of Alan Naplan's arrangement of "Al Shlosha D'Varim," a song in Hebrew that means "the world is sustained by three things, by truth, by justice, and by peace."
The honor choir is an annual event organized by JSU Director of Choral Activities, Dr. Patricia Corbin. Participating students were nominated and prepared by their music teachers: Holly Luke and Kristina Sisco from C.E. Hanna, Jean Ellison from White Plains and Weaver and Lisa Gillespie from Kitty Stone. Teachers, school administrators and parents chaperoned the students throughout the day.
"We provide the opportunity for grade school children to help motivate them to be exemplary music students in their schools and as a chance to be an advocate in support of music education in our schools," says Dr. Corbin. "All of the teachers who brought students to honor choir this year are JSU alums, and we are so proud of them and the work that they are doing in their schools."
"My kids had a great time," said Kristina Sisco. "They love working with Mr. Caulk," said Holly Luke. Jean Ellison added, "My kids have just had so many great things to say. The students learned a lot, and I know it will be extremely beneficial  to my program."
"I loved it this year!" says Lisa Gillespie. "The clinician was relatable, and the kids loved him. The music was also very approachable and educational. Thanks for providing this experience for the kids. They had a great time!"
For more information, contact Dr. Patricia Corbin at pcorbin@jsu.edu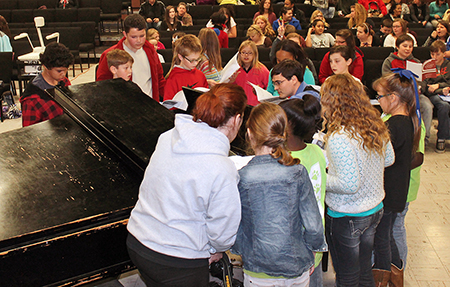 Photos- Clinician Jeff Caulk works with students at honors choir at JSU. (courtesy)