Internationally-known Basso Profundo KB Solomon to Perform Paul Robeson Tribute at Jacksonville State Feb. 7
01/17/2013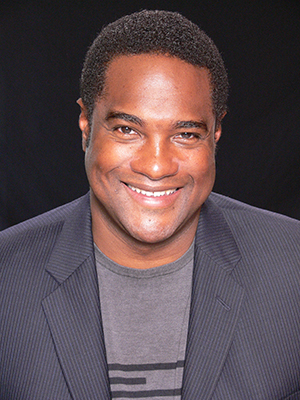 UPDATED Feb. 5, 2012-- This event is now free to students of all ages, JSU faculty and staff.
In recognition of black history month and following a tremendously moving performance by KB Solomon during the groundbreaking ceremonies for Freedom Riders Park in Anniston, Jacksonville State University is bringing the internationally known basso profundo and former JSU student back to the university for a one night only performance of his one-man musical about Paul Robeson entitled "Speak of Me As I Am."
The music, words, spirit and life of the iconic musician, actor and civil rights activist Paul Robeson will come alive in KB Solomon's portrayal, which is set for Thursday, February 7 at 6:30 p.m. at JSU's Ernest Stone Performing Arts Center.  The one-man show is described as a musical, a play, and an experience.  For those who are unaware of the magnitude of Robeson's career, Solomon's show is a poignant and inspiring tribute. 
Paul Robeson, the son of a runaway slave, won a four-year scholarship to Rutgers University and, as the only African American in attendance, graduated valedictorian after earning 15 letters in four different sports. A football All American for two years, Robeson was inducted into the Football Hall of Fame in 1995.
He graduated Columbia Law School, appeared in 11 films including "Jericho" and "Proud Valley," appeared in numerous stage musicals including "Showboat," and became a popular concert, radio and recording artist.  Robeson was one of the pioneers of the civil rights movement and was a fearless warrior for civil rights, not only for African Americans but also for workers and oppressed people around the world. 
An Anniston native, Solomon has performed principal roles in operas and with symphonies around the world. He chose to write the one-man show after hearing so many people say he reminded them of Robeson.  Solomon's rare basso profundo sound makes the many popular songs Robeson sang such as "Old Man River," "America the Beautiful." There is a Balm in Gilead." "The House I Live In," and many more come to life in the show, as they are interspersed during the dramatic reminiscences of Robeson's life and career.  
Appearing as Robeson, Solomon brings to light Robeson's political stand and reflects upon the price Robeson paid.  KB appears as Paul returned from the "Time Untime" to give an account of his stand and to address today's America with inspiring dialogue, patriotic and popular songs. 
The pianist for the show is Equity Digital recording artist, Michael Dulin of Birmingham.  Classically trained at the famed Juilliard School in New York, Dulin has enjoyed success as a performer, producer/arranger, and composer of original music for radio, television, film and theatre.   His 2012 album "These are the Moments" won top honors in piano from New Age Music. 
Solomon has devoted more than five years in researching, writing and developing "Speak of Me As I Am," which was featured at the National Black Theatre Festival.  He is now set to launch a world tour following his performance at JSU.
Admission is $20 for the general public; free for students of all ages. For tickets contact the Stone Performing Arts Center Box Office at 256-782-5648.
Photo: KB Solomon (courtesy)