State Superintendent of Education Dr. Tommy Bice to Speak at JSU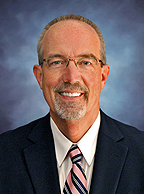 Dr. Tommy Bice, Alabama State Superintendent of Education, will be on the Jacksonville State University campus on Tuesday, October 30 for two addresses, one aimed at inspiring education majors, potential teachers and education faculty, and another to convey Alabama's Vision 20/20 Plan. At the latter free public address, which takes place at 1 p.m. at Leone Cole Auditorium, Dr. Bice will speak about the impact of the College and Career Readiness Initiative that includes the Common Core State Standards. 
Dr. Bice was appointed Alabama's State Superintendent of Education on November 10, 2011, and assumed the position on January 1, 2012. Prior to his appointment, Dr. Bice was Alabama's Deputy State Superintendent of Education for Instructional Services; Superintendent of the Alexander City School System, high school principal, career tech director, alternative school teacher/director, special education/residential school director, early childhood teacher/parent trainer; and began his career as a teacher at the Alabama Institute for the Deaf and Blind. Dr. Bice also serves as an adjunct professor of Educational Leadership at Auburn University. He received his B.S. and Ed.D. degrees from Auburn University and his M.S. degree from the University of Alabama at Birmingham. Dr. Bice resides in Alexander City with his wife, Nancy, and their three sons, Andrew, Bennett, and Cambron. 
Photo: Dr. Tommy Bice (http://www.alsde.edu)
10/25/2012