New JSU Outdoor Adventure Club Offers Opportunities to Explore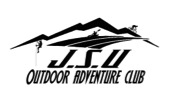 Is rock-climbing your thing? What about backpacking the Rocky Mountains? Maybe you're a day-hike person, or perhaps you just enjoy relaxing in a hammock by the river.
The Jacksonville State University Outdoor Adventure Club is a newly formed organization that emphasizes adventure and exploration, and just down right relaxing. We are a diverse community of liked-minded individuals who want to experience the outdoors in a different way. Have you ever been reading a magazine and seen those beautiful mountainscapes, or seen pictures on Facebook of people hiking through the gorgeous Appalachian Mountains? Well, we take those pictures and turn them into real adventures that any Jacksonville State student can go on. Every month we have some type of "big trip" planned and various other trips as well. During the spring semester we'll be heading up to the slopes of Sugar Mountain for some skiing, traveling down the Ocoee in a raft, and embarking on some great trips that will yield great long-lasting memories.
So come check us out at www.facebook.com/JSUoutdoorclub
Michael Quattrochi
Jacksonville State University Outdoor Adventure Club President
10/26/2012