New American Choral Directors Association Chapter to Sponsor Food Drive
10/30/2012

The new JSU student chapter of the American Choral Directors Association (ACDA) will sponsor food drives at the fall concerts of the JSU A Cappella Choir, Chamber Singers and Calhoun County Civic Chorale. The first event will be at the upcoming A Cappella Choir concert at 3 p.m. on Sunday, November 11, at the Church of St. Michael and All Angels, 1000 West 18th Street, in Anniston. Concert attendees are being asked to bring food donations of canned goods, peanut butter, cereal, pasta and other non perishable food items. The food will be donated to the Food Ministry at St. Michaels.

ACDA is a national organization whose mission is to inspire excellence in choral music through education, performance, composition, and advocacy. There are student ACDA chapters at colleges and universities all over the United States. The JSU chapter will join other Alabama chapters at Huntingdon College, Samford University, The University of Alabama, Troy University, The University of Alabama in Huntsville, the University of Alabama-Birmingham and the University of North Alabama.

JSU Director of Choral Activities, Dr. Patricia Corbin, who also serves on the Alabama ACDA board as College & University Repertoire and Standards Chair, is responsible for starting this chapter and is its adviser. "ACDA has fabulous conventions every year and I haven't missed one since 1995," says Dr. Corbin. "They are life changing events for those of us passionate about choral music," she continues, "I wanted to have some of my JSU students share in this experience. I have a terrific group of students right now who are dedicated choral musicians. This is a good year to get this started."

In addition to sponsoring the fall food drives, the chapter is raising money to attend the ACDA National Convention that will be held in Dallas, Texas, March 13-17, 2013.  They will join the JSU student chapter of the International Tuba-Euphonium Association to hold a yard sale this Saturday, November 3 from 7 a.m. – 1 p.m. at the Wesley Foundation, 510 Pelham Road North. Anyone wishing to donate items to this yard sale may drop them off at the Wesley Foundation on Friday, November 2 from 8 a.m. – noon or from 4 - 7 p.m., or by appointment.

For further information about the new ACDA student chapter, this weekend's yard sale, or the upcoming choral concerts, please contact the JSU Choral Activities Office, (256) 782-5544.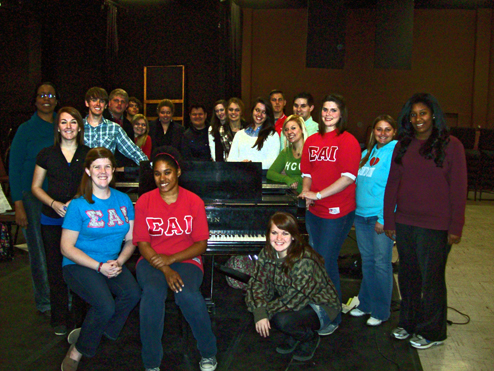 Pictured Standing from left to right Rebekah James, Dr. Corbin (Advisor), Kaylon Gilley (Church Liaison), Scott Johnson, Savannah Rutherford, Matthew Palmer, Caylen McCall (Vice President),Christopher Serrano, Jessica Lister, Melody Johnson, Madison Baldwin (Secretary-Treasurer), Matthew East, Dylan McCombs, Kristin Griffin (JSU Organizational Council Representative), Kaitlyn Graves, Ashley Boyd, Ariel Jones. Seated from left to right: Meg Griffin (President), Christina Booker (Music Department Organization Liaison), Carrie McKinney. (courtesy)