JSU Little River Canyon Center Achieves LEED Silver Certification
JSU Little River Canyon Center Achieves LEED Silver Certification
10/16/2012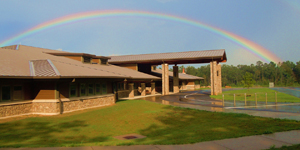 In a generation where "going green" is all the rave, Jacksonville State University has taken its passion for the environment a step further when building JSU's Little River Canyon Center, which is LEED (Leadership, Environmental and Energy Design) nationally certified.

Jay Jenkins of Munroe Jenkins Architects in Anniston, who helped design JSU's Little River Canyon center explains that for a facility to obtain LEED certification, it must be awarded points in five different categories. These categories are site, air quality, energy efficiency, water management and materials. A facility can be certified all the way to a LEED platinum certification, the highest achievement, or simply a LEED certification. JSU was awarded silver certification.

Though Jenkins says it's more costly to build with the hopes of achieving LEED certification, it pays off in the long run.

"Life cycle costs show very clearly that it pays off easily in the long term to build this way," Jenkins says. "But some people look at short term dollars when building a project."

However, JSU was careful in selecting its materials, making the building only one to two percent more expensive to build.

The green of the building can be seen all over, from the low flush toilets to the natural irrigation system that collects rainwater from the roof to water the grass.

The urinals in the men's restroom are waterless, using a special wax plug to prevent any odor from building up, and all the faucets are sensored in order to not waste water. Even the parking outdoors is woven between trees so that they didn't have to be cut down.

The geothermal heating and cooling system of the building may be the biggest energy saver. The system uses the constant temperature of the earth 300 feet underground to limit the amount of energy needed to heat and cool the air. It cost $120,000 to install, but is currently saving $1,000 a month in utility bills. It will pay for itself in less than ten years.

Director of Environmental Policy and Information Center at JSU, Pete Conroy, initially proposed that the building to be built in order to achieve LEED certification, and says there were many reasons to do so.

"First and foremost, it's important to have a sustainable building, because it's cost effective; it saves the university and taxpayers money to have a building that uses less energy and less water by very simple measures that make sense," Conroy says. "Secondly, we're an education facility, and it's our job to teach others about good technology."

The LEED certification can be considered a badge of honor and though it's extra work to get the certification, Conroy explains the significance of knowing a building is authentically "green."

"In an age of people saying things are green when they may or may not be, the LEED certification indeed certifies that the building is green," Conroy says.

Conroy explains that the JSU Little River Canyon Center is the first LEED facility to be certified in the county, the 60th in Alabama, the 5th college facility in the state, and the 25th silver certified facility in the state. It also received the maximum number of points in the category of education, and for the heating and cooling system.

Justinn Overton is the Green Work Force Project Director of the United States Building Council-Alabama Chapter. She explains that the USGBC's mission is to transform the way buildings and communities are designed, built and operated, and to enable a socially responsible, healthy and prosperous environment that improves the quality of life in Alabama.

Overton says that 90% of a person's life is spent in buildings, and within those buildings 71% of the nation's electricity is used, as well as 40% of clean water. With these statistics, it's vital that buildings are built with efficiency in mind.

"USGBC-Alabama is thrilled when anyone takes the time and commitment to pursue a LEED certification," Overton says. "It's really exciting that they decided to pursue that; it is such a standout thing for East Alabama."

Proudly claiming the title of Friendliest Campus in the South, JSU can now proudly say it's on its way to becoming one of the greenest as well.

For more information on JSU's Little River Canyon center and its earth-friendly design, visit www.canyoncenter.org.
--Julie Skinner