Come On and Take a Free Ride-- NABI Shares Bus With JSU, Conducts Campus Testing on New Diesel Hybrid Engine
Come On and Take a Free Ride-- NABI Shares Bus With JSU, Conducts Campus Testing on New Diesel Hybrid Engine
10/17/2012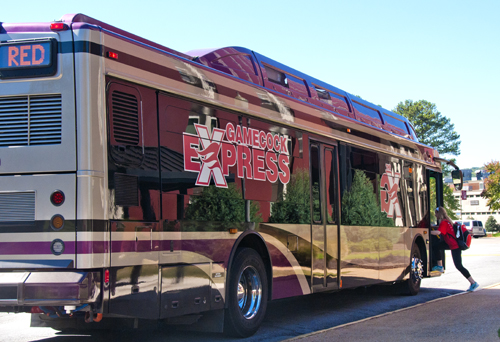 It's big, it's plastered with Gamecock Express decals, and it's turning heads as it weaves its way around the JSU campus.
The purple and silver transit bus is on loan to JSU free of charge to test a new type of engine that could make mass transit greener and less expensive.
According to Joe Whitmore, director of Institutional Support Services at JSU, North American Bus Industries, Inc. (NABI) in Anniston is working with Cummins Inc., to add a new diesel hybrid engine to its product offering. The bus on loan to JSU has been retrofitted with this Cummins ISL diesel hybrid engine, which NABI and Cummins wanted to test in real-life circumstances. 
In return for volunteering as the test facility, JSU gets free use of the $700,000 bus for four months or approximately 10,000 miles as per the test program guidelines, which means it should navigate the campus well into spring semester. NABI has done everything it can to make the bus fit in on campus, right down to outfitting it with the familiar GX decals.
To conduct the testing, engineers will come to the JSU campus every week or two to run diagnostics on the vehicle. Ideally, they will find their bus design and engine performance is all they have designed it to be-- greener, less expensive to operate, much more fuel efficient and requiring less maintenance. One of NABI's engineers, Jess Ford  is project lead on the program. He has been instrumental in conducting preliminary testing, coordinating training and bus delivery with JSU to kick-off the vehicle testing.  According to James McKellar, Chassis Engineering Manager for NABI, the engine is also being tested to ensure that NABI's engineering designs meet Cummins and 2013 EPA emissions requirements. This will clear the way for NABI to offer the bus engine configuration to its customers in the coming year.
McKellar added that the partnership with JSU is a good match because it allows the company to test locally and also could lead to future mentoring programs for students in engineering and technology. A second Cummins diesel hybrid engine currently in development could pave the way for similar NABI-JSU partnerships in the near future, McKellar said.
"There are a lot of good things that can come of this," Whitmore said. "The NABI bus is more spacious and it holds more students. We're running it on our busiest routes since it can hold more students. It will allow us to increase our efficiency by running it during peak times." 
Whitmore added that although the bus will be run on the red route during peak, it will be tested on all the routes.
According to Whitmore, the original fleet of 10 Gamecock Express shuttles cost less than the high-tech NABI bus. The original GX shuttles were funded with a federal transportation grant.
McKellar welcomes feedback from the campus community about their experiences riding the new bus. Please forward your comments to the JSU Office of Public Relations at jaxfacts@jsu.edu.
For more information about NABI, please visit their website, http://www.nabusind.com/index.asp
Photo: A student boards the new bus in front of Sparkman Hall. (Angie Finley/JSU)