Art Opening - Bryce Lafferty "On Paper"
Art Opening - Bryce Lafferty "On Paper"
09/27/2012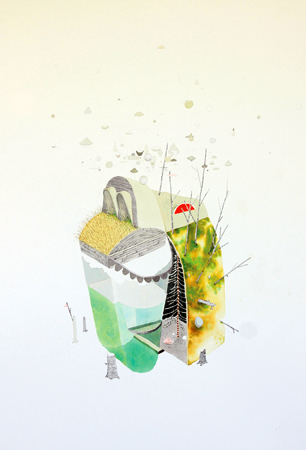 Photo Courtesy of the Art Department at JSU
Bryce Lafferty, Assistant Professor of Painting and Drawing, is a relatively new faculty member at Jacksonville State University, arriving in the Department of Art in the fall of 2011. He received his BA from Central Connecticut University and his Master of Fine Arts degree from the University of North Texas. He teaches drawing, watercolor, and canvas painting at JSU and lives in town with his wife and four young children. His work is all on paper, painted with watercolor, and his format ranges from traditional illustration-like drawings to three-dimensional and installation pieces. His newest work in watercolor playfully integrates architecture and landscape. Please join Bryce and his artwork for the reception of "On Paper" October 4th, 2012 at the Hammond Hall Art Gallery. The exhibit will continue until October 26, 2012. Admission is free and all are welcome.