Upcoming Training on Specific Emergency Response Protocols at JSU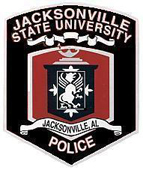 The University Police Department will present training on specific emergency response protocols. This will be a broad overview of what to do in case of an emergency on the campuses of JSU.
The training is scheduled for August 21st, 2012 in room 1103-C of the Houston Cole Library. There will be two training sessions, one from 9 a.m. - 10:30 a.m.; and one from 3 p.m. - 4:30 p.m. Please email Melonie Carmichael at mcarmich@jsu.edu your time preference.
08/13/2012