JSU Hosts Ready Alabama Day, Spirit on Mountain Street on September 6
JSU Hosts Ready Alabama Day, Spirit on Mountain Street on September 6
08/22/2012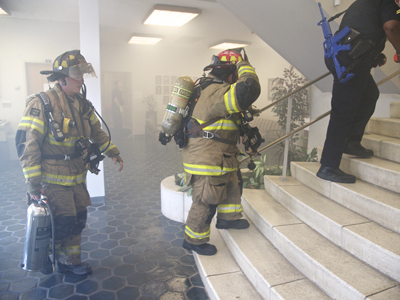 April 2011 was one of the most devastating months in Alabama's history. More than 60 tornadoes cut a swath of destruction a hundred miles wide across our state, leaving scars on the land and on many Alabama families. As horrific as it was, that month served as a reminder of the importance of individual and community preparedness in times of natural disaster.
The U.S. Department of Homeland Security has designated September as National Preparedness Month. In response, the State of Alabama will host its ninth annual Ready Alabama Day on September 6, 2012 at Jacksonville State University.
Hosted by Serve Alabama - Governor's Office of Faith-Based and Community Initiatives, the Alabama Department of Homeland Security, the Calhoun County Emergency Management Agency and JSU, Ready Alabama Day is a unique opportunity for professional and volunteer responders to interact with citizens by exhibiting response equipment, hosting interactive demonstrations, and stressing the importance of citizen preparedness. The goal of Ready Alabama Day is to increase public awareness about the importance of preparing for any type of disaster or emergency as well as demonstrating our state's response capabilities.
Nearly 50 emergency response agencies along with students from area schools will gather just outside JSU Stadium for Ready Alabama Day, which takes place from 9 a.m.-2 p.m. Congressman Mike Rogers will speak at a special program scheduled for 1 p.m.
The public is invited and encouraged to attend this important, statewide event. Admission is free.
Later that evening, Jacksonville State University will host Spirit on Mountain Street, sponsored by JCOC. This annual fundraiser, formerly called Taste of the Town, will feature food by 35 local vendors. Food tickets may be purchased on site or in advance for $1 each at the JSU Alumni Relations Office, with proceeds to benefit JCOC, a local non-profit organization that provides short-term emergency assistance for indigent individuals and families. The tasting begins at 6 p.m.
Following the fundraiser, Spirit on Mountain Street and the JSU Student Government Association will host a community pep rally at 7:45 p.m. in JSU Stadium. High school teams, bands, cheerleaders and fans from Jacksonville and Pleasant Valley High Schools and Jacksonville Christian Academy will join the JSU football team, cheerleaders, Southerners and Ballerinas as the community comes together to celebrate the upcoming football season.
Photo: Firefighters enter Wallace Hall in August 2011 as part of a disaster preparedness drill. (Steve Latham/JSU)