Erin Chupp Sintos- Shooting for Extraordinary
Erin Chupp Sintos- Shooting for Extraordinary
08/21/2012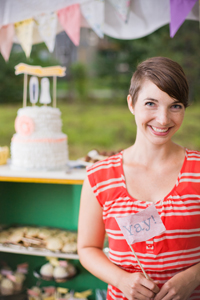 By Julie Skinner, Jacksonville State University Office of Public Relations
When Jacksonville State University caught up with alumna Erin Chupp Sintos last week, she had just returned from a wedding shoot in Toronto, Canada, along with her husband, Brian, also an alumnus. Landing from her flight at 2 a.m., Erin was as chipper as ever when asked for an interview about her accomplishments, not to mention humble, thankful and surprised.
"It's so odd," Erin laughed. "I'm used to being the one that's looking for someone interesting to write about."
Erin Chupp Sintos grew up in Atlanta, Ga., and knew from the beginning of her college career that she wanted to major in journalism.
While looking for colleges to attend, she visited Jacksonville State University and was sold after visiting Self Hall. She knew that hands-on experience would be available in the communication department, and that the professors would not only know her name, but remember it. The friendly atmosphere didn't hurt, either.
"The whole 'Friendliest Campus in the South' thing really isn't made up," Erin says. "It's one of the warmest and most endearing places."
Erin found love at JSU too, when she met Brian Sintos, a Marching Southerner. She found passion, as well, when she discovered her natural love and talent for photography.
Though Erin is an exceptional writer and showcased her talents on The Chanticleer staff as well as for JSU's Office of Public Relations, she felt drawn to taking pictures. She shot photos to accompany her articles and took several elective courses in photography. She would often use the darkroom at Self Hall during downtime at the newspaper.
Soon, people started to pick up on Erin's talent behind the lens, and began asking her to do photography favors here and there. The thought of shooting a wedding never entered Erin's mind until a friend approached her and said that they had no money for wedding photography. If she didn't shoot it, there would simply be no pictures taken.
"So I did it," Erin says. "And I just loved it. It reminds me of newspaper work because of the attention to detail. It's just so fast-paced."
For two years, Erin continued photography favors on the side while balancing a number of freelance writing jobs. When she graduated with her Master of Arts degree from JSU and married Brian, he gave her the push she needed to take her love and talent for photography to the next level.
"Brian just said to me, 'You're passionate about this, and you're great at it. It's time to jump off this cliff now or never,'" Erin says.
So Erin, the calculated risk taker, and Brian, the motivator, decided to start Tin Can Photography together.
The name didn't come easy. For days the pair tossed around ideas for the company, but nothing clicked. One day, Brian walked in and tossed some change in the old coffee can they keep in the house for "date night" money. Jokingly, Brian said, "Let's just call it Tin Can." Erin agreed, and after letting it settle on their tongues for a couple days, they never looked back. It fits perfectly, since Erin explains that tin cans are used in food service to preserve food, and their company was in the business of preserving memories.
Around the same time that Tin Can was getting off the ground, another twist of fate occurred. Mamie Doyle, owner of Miss Mamie's bakery in Marietta, Ga., was looking for extra help. Miss Mamie baked Erin and Brian's wedding cake, and since the photography business was just starting out, Erin began working there part time. When Mamie was approached about competing on the hit Food Network TV show Cupcake Wars, she knew who she wanted to accompany her.
"I initially said no," laughed Erin. "But Mamie said I was with her in the beginning, and she thought I could think quickly, be creative and fast on my feet. She said that's who she wanted with her."
As time would tell, Mamie made a good choice. Erin recalls the nerves she and Mamie felt right before the filming of the show began.
"I remember sitting in the dressing room with Mamie, waiting to get called on stage, and basically we just said, 'We're here. We've already accomplished so much by just getting on the show, and no matter what, we're going to work hard,'" Erin says. "Our goal was to make something really amazing and to not shy away because of the competition."
When the show aired in March, Erin and Mamie's friends and family piled into The Strand Theater two blocks away from Miss Mamie's bakery. With every seat in the house filled, the crowd watched and cheered every time the pair did something great.
And then the crowd roared when they learned the pair had won Cupcake Wars!
"It was an amazing feeling to hear everyone clap and cheer behind me," Erin says. "I was so proud of Mamie."
These days, Tin Can Photography is moving steadily. Erin and Brian shoot roughly two weddings a month and, although they often put in 12-15 hour days and work atypical hours, Erin says it doesn't feel like work.
"We're going, going, going, but it doesn't feel like work," Erin says. "It's not until the end of the day when I get in my car to drive home that I realize how exhausted I am."
The importance of her job as a photographer hit home when a bride's father passed away a few months after her wedding. The bride wrote Erin and Brian a letter telling them how much it meant that they captured that last picture of her and her dad together.
"We keep that letter and read it in case we're having a hard day. It reminds us that our work matters," Erin says. "That picture isn't going to win any awards, but it means a lot."
Traveling to places near and far to capture the memories of brides and families, Erin took her passion and turned it into her profession. She walks through open doors with a smile on her face and an unshakeable drive. She and Brian still return to their beloved JSU for Homecoming, enjoying the place where they met years ago, and both received the education to help them push forward in life.
Most importantly, through the long hours and hard work, Erin is happy.
"I love waking up each day," Erin says.
And JSU loves calling Erin a Gamecock.
Photo: Erin Chupp Sintos (courtesy)