Celebrate Being a Gamecock on College Colors Day, August 31
Celebrate Being a Gamecock on College Colors Day, August 31
08/23/2012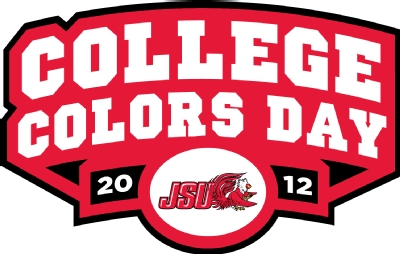 Hey Gamecock fans, Friday, August 31st is College Colors Day, a celebration of the college spirit and a chance for YOU to show YOUR JSU school spirit by wearing your college colors at work, school or to play.
College Colors Day, which coincides with both "back-to-school" and the kick-off of the college football season, seeks to celebrate and promote the spirit that makes college traditions great by encouraging fans, alumni, and students to wear apparel of their favorite college throughout the day of Friday, August 31, 2012.
College Colors Day is a simple concept. When you wake up next Friday, August 31st, make sure the clothes you wear to work, school, or play are the colors of your favorite college or university.
Think of College Colors Day as a dress rehearsal before the kick-off of college football season, a reason to chat with fellow co-workers/friends about the upcoming college football season.
College Colors Day began in 2005 and is organized by The Collegiate Licensing Company.
For more information on College Colors Day and to find out where you can purchase officially licensed college gear, visit www.collegecolorsday.com.
College Colors Day - spread the word and wear your colors wherever you are! Friday, August 31st.