JSU's Sarah Cusimano Miles Awarded 2012 Artist Fellowship for Media Arts from State Arts Council
JSU's Sarah Cusimano Miles Awarded 2012 Artist Fellowship for Media Arts from State Arts Council
07/20/2012
JSU adjunct professor Sarah Cusimano Miles of Gadsden was awarded one of the two 2012 Artist Fellowships for Media Arts from the Alabama State Council on the Arts. 
From the ASCA Fellowship announcement page:
"Miles' work is made up of mature, compelling images that test our concept of reality. It makes the viewer rethink what we know and what we see. She effectively mines a public collection turning artifacts into art." 
"Fellowship grants are awarded to individual artists and are based on merit of work, career achievement, career potential and service to the state and are the most prestigious grants awarded to individuals by ASCA."
Jim Harrison III, Chairman of the Council emphasized, "'Our state is fortunate to have so many artists from every artistic discipline producing works of the highest quality. Fellowships are given to individuals working in arts administration, crafts, dance, design, media/photography, music, literature, theatre, and visual arts. These awards recognize artistic excellence as well as professional commitment and maturity. Recipients may use funds to set aside time to create art, improve their skills, or to do what is most advantageous to enhance their artistic careers." 
Currently, Cusimano Miles' work is on view at the Wiregrass Museum of Art 2012 Biennial, and is featured on the online gallery at the Detroit Center for Contemporary Art. In the past year her work has been published and exhibited in venues both national and international, from the Borges Cultural Center in Buenos Aires, Argentina, as a part of the Julia Margaret Cameron Awards, to PhotoPlace Gallery in Middlebury, Vermont, in Poetic Objects, where her photograph was chosen to be the cover of the published exhibition catalog. At PhotoNOLA, a national photography review held in New Orleans, Louisiana, gallery owners, editors, publishers and museum curators from throughout the U.S. critique and choose their favorite portfolios from the sixty-five participating photographers. Cusimano Miles was awarded  2nd Place in the Portfolio Review Prize. 
She has also recently shown her work at University of North Alabama, Auburn University, Shorter College in Rome, Georgia, Savannah College of Art and Design in Atlanta, Louisiana Tech in Rustin, Louisiana, Monmouth University in Asbury, New Jersey, Herberger Institute for Design and the Arts on the Arizona State University campus, and University of Texas, San Antonio where she presented her work at a Society for Photographic Education regional conference. 
The Department of Art would like to congratulate adjunct professor Sarah Cusimano Miles for her contributions to the field of fine art photography. 
For more information:
http://www.arts.state.al.us/grants/Grant%20Awards%20June%202012.pdf
http://detroitccp.org/Online-Gallery
http://www.wiregrassmuseum.org/index.php/component/content/article/18-art/148-bienniall
http://www.vtphotoworkplace.com/id158.html
http://photonola.org/2012/01/05/2011-photonola-review-prize/
sarahcusimanomiles.com

Pangolin, by Sarah Cusimano Miles (courtesy)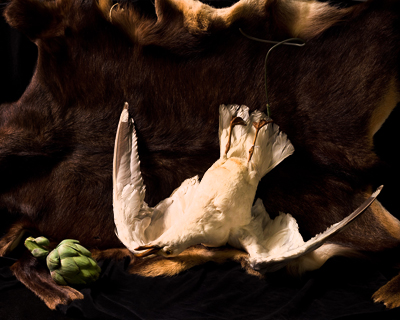 Herring Gull, by Sarah Cusimano Miles