Cornell University Certifies Renee Morrison in Measuring Environmental Education Outcomes
Cornell University Certifies Renee Morrison in Measuring Environmental Education Outcomes
06/25/2012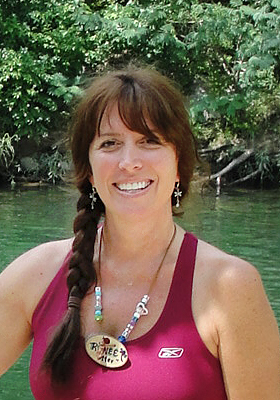 Renee Morrison, JSU Field Schools Coordinator, received a scholarship from Cornell University to participate in an online course through the University's Civic Ecology Lab. The course was provided by the EPA-funded national environmental education (EE) program.
This 12-week professional development course (Feb - May 2012) focused on identifying individual, community, and ecosystem outcomes of EE and exploring quantitative measures of outcomes, such as environmental behaviors, sense of place, and connectedness to nature/science.
Dr. Tania Schusler, professor of Civic Ecology at Cornell, says "We received ninety applications for the sixteen slots allocated for this course. We were enthused by the wealth of experience and diverse array of programs among those selected to participate. Those selected to participate in the course bring a mix of experience with program evaluation; some possess substantive experience with evaluation while other's recognize its value and express a strong desire to learn more.

Morrison received excellent evaluations from Dr. Schusler for her MEEO project which utilized semantic webs to evaluate and measure information transfer (programs evaluated included JSU Field Schools; spring K-12 field trips and general public programs).

Morrison notes that her past training in program evaluation (developed and implemented during her decade of service as the Director of Education at the Anniston Museum of Natural History) and newly gleaned knowledge from this Cornell University course (which includes designing logic models, identifying evaluation goals and collecting, analyzing and reporting data) will be beneficial for developing future JSU Field School programs as well as supporting JSU's Red Balloon Initiative.

"Professional environmental educators as well as formal classroom teachers believe that EE has a beneficial education impact on students of all ages. We see it on their faces, hear it in their voices, and receive positive feedback from all involved," Morrison says, "But how do we measure enthusiasm? How do we quantify creating interest in STEM careers through an EE experience? This course provides the techniques to measure engagement, retention and impact of EE experiences on students to quantify the impact of EE programs through evaluation, assessment and statistical tools. This is a breakthrough to increase the credentials of EE on many levels."

JSU Field Schools offer over 400 EE programs annually (including programs for general public, outreach opportunities, workshops, science and arts camps, and K-12 field trips) in their outdoor classroom corridor which ranges from the 'deepest canyon to the highest mountain in Alabama.'

For more information about MEEO or JSU Field Schools programs contact Renee Morrison at rmorrison@jsu.edu.