JSU Student Hali Boyles Receives Beta Gamma Sigma Scholarship
JSU Student Hali Boyles Receives Beta Gamma Sigma Scholarship
04/16/2012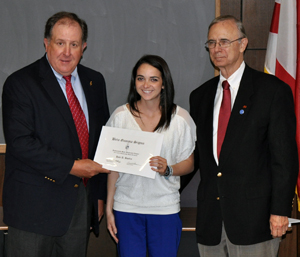 By definition, those who earn honor society membership, especially in the International Honor Society Beta Gamma Sigma, are the very best among their peers. To receive a Beta Gamma Sigma Scholarship, however, indicates that a student has earned the right to be considered the absolute best at one of the world's finest business schools.
In its 99th year dedicated to recognizing excellence in the study and practice of business, Beta Gamma Sigma has announced its 2012 scholarship recipients.
As a student at Jacksonville State University, Hali A. Boyles was chosen for her superior performance in the study of business. She has received a $1,000 scholarship to continue her education in 2012-13.  Ms. Boyles is a resident of Jacksonville. 
Since 1988, the Society and its member deans have awarded more than $1.4 million in scholarships to outstanding student members from around the world. The Society is proud that its contributions have helped "the best in business" reach their academic and professional goals.
Membership in Beta Gamma Sigma is the highest recognition a business student anywhere in the world can receive in a baccalaureate (undergraduate) or post-baccalaureate (master's) program at a school accredited by AACSB International – The Association to Advance Collegiate Schools of Business. 
To be eligible for membership, the academic ranking of those being considered must place them in the upper 10 percent of their junior or senior class, or upper 20 percent of the graduating master's class. Members inducted each year join an expanding worldwide network of more than 625,000 business professionals. 
About the photo: Dr. David Palmer, left, and Dr. Bill Fielding, right, Dean of CCBA, present Hali Boyles with the Beta Gamma Sigma scholarship. (Courtesy photo by Walt Thomas)