Go Vegan for April 18 Wellness Wednesday
Go Vegan for April 18 Wellness Wednesday
04/11/2012
Come to Wellness Wednesday on April 18 and enjoy a vegan meal that won't break your calorie budget!
The theme for the luncheon, which begins at noon in Room 118 Mason Hall, is a vegetarian/vegan diet that also emphasizes adding foods to your menu that are seasonal and grown locally. The meal, which weighs in at 517 calories, is prepared by Family and Consumer Sciences majors. It will be followed by a presentation by Exercise Science and Wellness majors.
The cost of the meal is $7.

Please make your reservations by Friday, April 13, by calling Lynn Steward at 256-782-5054.

Take out plates are available.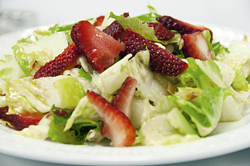 Nutty Strawberry Salad
 Rice and Beans Stuffed Tomato, Herbed Eggplant Slices and Roasted Brussels Sprouts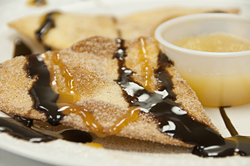 Sopapilla with Applesauce and Caramel and Chocolate Drizzle