A mother with a voice, hunting for awareness
A mother with a voice, hunting for awareness
04/18/2012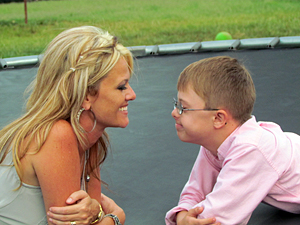 This article originally ran as the Town and Gown weekly feature in the Jacksonville News. Julie Skinner, a graduate assistant in the Office of Public Relations at Jacksonville State University, wrote this article.

Michelle Norwood thought that maybe God was mad at her.

Just a year earlier, she and her husband, Anthony, had a daughter named Tori who passed away at six days old after being born with a heart defect. Now, Michelle was being told only hours after giving birth to her son, Hunter, that not only did he have Down syndrome, but also a heart defect.

"To be honest, I thought I had done something to make God really mad at me first," Michelle says.

Michelle didn't have to wait for doctors to confirm her suspicions about Hunter; she realized he had Down syndrome from the first moment she saw him.

"I felt a mixture of emotions," she says. "I was scared because I didn't know what the future held. I know so many who have Down syndrome also have things wrong physically."

The fear and anger she felt over the situation melted away whenever Hunter was in her arms. To Michelle and Anthony, their baby son was absolutely perfect.

After taking Hunter to a heart specialist in Birmingham, the same specialist they took Tori to just a year earlier, they made a relieving discovery. His heart was perfect.

Michelle, a 1996 graduate of Jacksonville State University, majored in business, yet always felt a tug at her heart to become a teacher. Hunter was six years old when she decided to return to JSU and major in special education in order to not only be a better mother to Hunter, but to touch the lives of students with special needs, as well.

"Michelle is a natural when it comes to working with students with disabilities," says Dr. Teresa Gardner, associate professor of special education. "She loves children, and her personality along with her experiences with Hunter makes her a great match with our collaborative teaching special education degree. She's a gifted individual, and excels at everything she does."

Gardner explains that being a special education teacher is truly a special calling, and takes a person who has a sense of patience and understanding. Michelle has these qualities and then some.

A talented singer, Michelle always wanted to write a song for Hunter, but didn't know how to start. She wanted to bring awareness of her son's condition, and also let other parents of special needs children know that they were not alone.

Last summer, Michelle was directing Vacation Bible School (VBS) at her church, an event that was the highlight of her summer as a child. Hunter, however, didn't like it. Having difficulty with group settings, Hunter just couldn't enjoy himself. After taking Hunter to spend the day with his grandmother, Michelle returned to eat lunch with some of the other parents at VBS who were discussing their children going to summer camps for football and cheerleading, and other summer activities that children with special needs often don't participate in.

"It hit me like a ton of bricks that what they were discussing was something I'd probably never get to experience with Hunter," Michelle says. "That night, the first words of the song started coming to me, and within fifteen minutes, it was written."

She named it "Hunter's Song," and went the next day to have it copyrighted. Various musicians volunteered to help her put music to it, and they met every Monday night for four weeks to practice. Six weeks after the song was written, it was recorded at Cook Sound Studio in Fort Payne, Ala.

"Hunter loves the song," Michelle says. "If he has a bad day, he'll say 'play Hunter's Song.'"

Michelle has performed the song live a few times, including at an annual benefit for Down syndrome held at Joe Davis Stadium in Huntsville.

Today, Hunter is eleven years old, has just started talking in sentences and attends public school. He loves to sing and dance, play outside, is infatuated with animals (especially dogs), and also adores Spongebob. He has a bright, dazzling smile. While many say that Hunter is very lucky to have fourteen-year-old Hope, and six-year-old Brodie as siblings, Michelle says Hope and Brodie are very lucky to call Hunter a brother.

"Having a sibling with special needs adds a dimension to them that they wouldn't have otherwise," she says.

This May, Michelle will graduate with specialist certification in Collaborative Teaching/Special Education, her third degree from JSU, and the highest degree offered by JSU's College of Education and Professional Studies.

"The first time I went to JSU, I had just gotten married and loved its convenient location," Michelle says. "Then, I fell in love with the campus and the people. Everyone was so quick to help me, and my heart kept leading me back to Jacksonville."

A mother, a wife, a singer and an advocate, above all, Michelle Norwood is a teacher. She teaches her children, her students, and all who are around her, that with a little courage and a heart full of love, some of life's scariest turns of events can become the sweetest gifts from God.

For more information on this story, please contact Julie Skinner at jsu1435n@jsu.edu.
About the photo: Michelle Norwood and Hunter (courtesy)